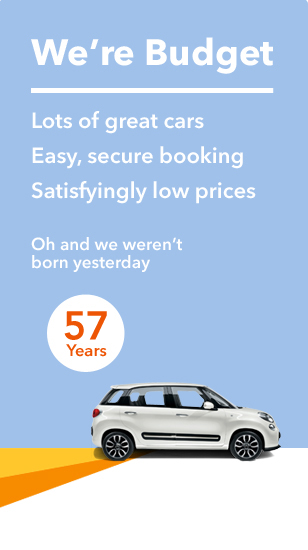 Other car hire locations
Car hire Waterloo Train Station
Enjoy your time in London with Budget Car Hire. Our Waterloo location provides quality hire cars and friendly service at a great value price.
Let's go. Enter your rental dates in the form on the right to get a quote.
Car keys ready? We have put together some great suggestions below to ensure you get the most of your London car hire.
Rent a car at London Waterloo Train Station
London Waterloo
Elizabeth House
London
SE1 7NJ
Tel: 03445446652
Opening hours
sunday:

Closed


monday:

08:00 - 18:00 Hrs


tuesday:

08:00 - 18:00 Hrs


wednesday:

08:00 - 18:00 Hrs


thursday:

08:00 - 18:00 Hrs


friday:

08:00 - 19:00 Hrs


saturday:

08:00 - 15:00 Hrs

Other Budget locations nearby
Budget Rent-A-Car at London Waterloo Train Station
View our convenient Budget car hire location on the map below.
Explore London with Budget Car Hire
Car hire in London and beyond
Waterloo train station is located in Central London and gives visitors access to many of the city's most popular attractions. Many of Britain's most important government buildings are just a stone's throw away.
Several of London's most important cultural landmarks can also be found nearby and there are a wide variety of restaurants to sample. No matter which aspect of Central London you wish to explore, a hire car helps to make any trip in or around London more convenient.
In terms of specific attractions, one of the most intriguing in the area is the British Museum, where you can get a glimpse of the history of ancient cultures. There are many artifacts on display, dating back to the earliest civilizations. If you wish to see this world-class attraction, a cheap car rental from Budget will make it easy to get to.
If London's art scene is what you wish to explore, then there are few better places to start than the National Theatre. This location houses a trio of auditoriums and regularly sees some of the finest actors in the world.
The National Gallery is situated in Central London, not far from Trafalgar Square; it regularly holds major exhibitions dedicated to world-class artists, alongside its permanent collection. The paintings in this gallery date back to the 1200s, though more contemporary artistic styles are also displayed.
If you are interested in government buildings, then this is a great place for you to be, because both Parliament and the Royal Palaces are located in this part of the city, as are the Law Courts. Every one of these landmarks is easy to get to with the help of one of our cheap car rental deals. Our service can you open up the entire city of London to you.
There are several popular car trips that may be taken from this part of London. The journey to Hampton Court from London has long been a popular one, due mostly to the fact that the destination is packed with medieval history.
This former royal palace is home to several rooms showcasing the history of the medieval era. For those who are into architecture, the style of Hampton Court will be of interest, since it is a combination of Baroque and Tudor influences. Certain sections of the palace, such as the stained glass window in the Great Watching Chamber, are particularly popular with tourists.
Having a car helps to make Hampton Court easily accessible. When you book a vehicle with us you can tailor your trip to your own interests and take your time. If you would like to see more of Britain's royal history, then taking a trip to Windsor Castle is not to be missed. This landmark is the largest inhabited castle in the world and one of the official homes of the British royal family.
The architecture of Windsor Castle, which dates back to the days of William the Conqueror, spans a variety of influences. It is not at all difficult to get to this famous landmark when you have the help of a rental car.
Because the vehicles offered by Budget are available for low rental rates, you will not have to pay an arm and a leg to enjoy any number of scenic drives.