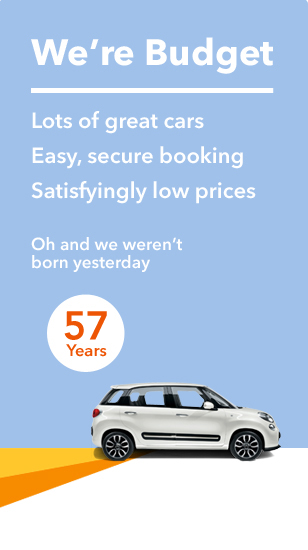 Other car hire locations
Car hire Stansted Airport
Enjoy your time in London with Budget Car Hire. Our Stansted Airport location provides quality hire cars and friendly service at a great price.
Need some inspiration? We have some great suggestions below to help you get the most of your car hire.
Rent a car at Stansted Airport
London Stansted Airport
London Stansted Airport
London
CM24 1SJ
Tel: 03445449059
Opening hours
sunday:

12:00 - 20:00 Hrs


monday:

07:00 - 19:00 Hrs


tuesday:

07:00 - 19:00 Hrs


wednesday:

07:00 - 19:00 Hrs


thursday:

07:00 - 19:00 Hrs


friday:

07:00 - 19:00 Hrs


saturday:

08:00 - 14:00 Hrs

Budget Rent-A-Car at London Stansted Airport
View our convenient Budget car hire location on the map below.
Explore Essex with Budget Car Hire
Visit the wide-open spaces of Essex
Stansted Airport is located in Essex, a county to the east of London. It is a gateway to Greater London and the northeast.
The counties of Suffolk, Cambridgeshire, Hertfordshire and Kent also lie beyond its borders. Essex is significant due to the Lakeside Shopping Centre, Stansted Airport, and the two relatively new towns of Basildon and Harlow.
There are over 14,000 landmark buildings in Essex, making a car the best way to get around to be in with a chance of visiting a fraction of them.
If all you see are two of the landmarks in Essex, it will still be worthwhile using our services. One thousand of these landmarks are in the Grade I or II listed buildings, meaning that they are of exceptional interest or are particularly important.
For instance, the St Peter on the Wall is a Saxon church that is close to the Royal Corinthian Yacht Club. The club is a modern building and was put on the international list of modern architecture in 1930.
Without a hire car it may be tough to enjoy the wild spaces that are part of the landscape. The natural history of Essex has been popularised by Robert Macfarlane in his written works namely "The Wild Places".
The works showcase the barn owls, badgers, bluebells and seals that exist on the coastal area of Essex. You can enjoy Essex and all it has to offer with a rental car that allows you to visit the area at your own pace.
Anyone visiting the area may be inclined to tour some of the most important landmarks; lovers of nature will appreciate the small animals, birds and forest area.
Essex has a large rural area that many London residents head towards for weekend getaways. The rolling farmland, windmills and countryside trails all have something to offer the visitor.
Add in the vineyards and strawberry farms and there is definitely something for everyone to enjoy, from children to adults. Make the most of your car rental and head out on a dining adventure in Essex.
Various cuisines are readily available; from Fish and chips to gourmet dinners and small cafes that will tantalise your taste buds. There are also a few pubs and privately owned restaurants that can add a special something to your holiday in Essex.
The county of Essex includes many places of interest such as Colchester, Southend, Braintree, Clacton, Saffron and Epping. This is one of the reasons that hiring a car could be very helpful.
You might decide that historic sites in Chelmsford and Maldon are top of your list of places to see, in which case you'll appreciate the flexibility that our service affords.
Whether you want to see its gardens and parks, such as Hyde Hall, you can make sure you fit it all in with the right car. For example, some of the attractions to be found in Epping are the Epping Forest District Museum, Gibberd Gallery, Gunpowder Park and Kelvedon Hatch Secret Nuclear Bunker.
For children, Lee Valley Park Farms is the perfect place for them to go a little wild with cuddly sheep and other farm animals. Lee Valley Regional Park is another location for children; here you can picnic, ride a bike or just explore the countryside.
Hedingham Castle is another must see. The castle was built in the Norman period and comprises a motte-and-bailey with a stone keep (a type of fortified tower). It stood for four centuries as the primary seat for the de Vere family.
Thaxted Windmill and Church is yet another amazing site in Essex that is worth a visit. Thaxted is actually a small town in Essex with the windmill and church as the main attractions. Hylands House is a Grade II neo-classical villa with more than 570 acres of land in Chelmsford.
We're now based at Stansted's new rental village
Our Stansted Airport rental station has moved to a brand new car rental village, just a short shuttle bus journey away from the airport's bus and coach station.
The airport coach and bus station is located opposite the main terminal entrance, follow the yellow signs marked 'car hire village' to catch a shuttle bus.
Our new address is:
Car Rental Village
Coopers End Road
Stansted
CM24 1SJ
If you need to return your car when we're closed, your just need to park your rental car in the return bays marked 'Avis Budget', and then leave your keys in the drop box located at the Budget cabin. It couldn't be simpler.