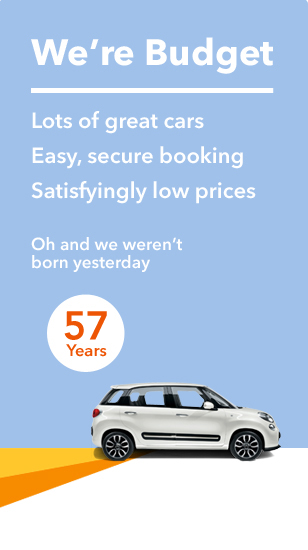 Car hire London City Airport
Book a quality hire car with Budget Rent-A-Car London City Airport. We're located in the airport's arrivals area and have a wide selection hire cars available at great value prices.
Rent a car at London City Airport
London City Airport
London City Airport
London
E16 2PX
Tel: 03445444662
Opening hours
sunday:

08:00 - 14:00 Hrs


monday:

08:00 - 13:00 Hrs


tuesday:

08:00 - 13:00 Hrs


wednesday:

08:00 - 13:00 Hrs


thursday:

08:00 - 16:00 Hrs


friday:

08:00 - 20:00 Hrs


saturday:

08:00 - 14:00 Hrs

Other Budget locations nearby
Budget Rent-A-Car at London City Airport
View our convenient Budget car hire location on the map below.
Explore London with Budget Car Hire
Car rental in London
There are many scenic car trips that start from the London City Airport, one of the more popular ones being the one to Brighton.
By taking this trip, you will pass through the beautiful natural scenery of the Weald and the South Downs. After the hustle and bustle of the city, this journey can be very freeing, and the coastal scenery helps to make Brighton a popular destination.
A cheap car hire from Budget makes the trip to the coast both affordable and enjoyable.
Another popular car trip from London is the one to Cambridge: this university town, which has its roots in the 13th century, is home to over 30 centres of learning.
his route may also take you to Oxford, so you can take in more than a little of Britain's rich educational tradition.
Now that you've learned how to best explore London, start planning your trip by booking your car rental with us.
Discover London in your Budget hire car
London City Airport gives visitors access to one of the world's most interesting cities – there is something here for everyone.
The sense of history is palpable and there are many historical landmarks to be seen, as well as a wide selection of history museums scattered throughout the city.
For those interested in European art, London has much to offer, along a large number of museums devoted to the topic. If you have an interest in sport, you will find much to see… and its culinary diversity is world famous.
It does not matter which part of the city you wish to explore, using our car hire service ensures that you will get there with ease.
With so many accessible attractions, the hard part is knowing where to start. If you wish to check out the history of the city, there are several must-see landmarks.
Among the most famous are the Westminster Abbey, a Gothic-style cathedral dating back to medieval times, and the Tower of London, the famous castle on the north bank of the River Thames.
The Castle's history goes back to the Norman Conquest and it has been used both as a royal palace and a prison. The Tower is a few kilometres from the city centre, but it is easy to get to by driving.
Booking a car rental also helps ensure you spend less on transport over the course of your trip. If you have an interest in the history of art, there is more than one place for you to spend time in London.
The Courtauld Gallery is a great location to check out if you want to take in art in an intimate setting. The collection of Impressionist and Post-Impressionist paintings will be of particular interest.
If you are interested in the art of the ancient past, as well as other cultural artefacts, the British Museum is a key destination.
Whether you are looking for facts on the ancient culture of Egypt, Greece, Rome, the Middle East, Asia or Africa, you will find them here.