CAR HIRE NEAR YOU WITH BUDGET

Great value car hire in the UK and abroad
When the journey is as important as the destination, you want to choose the right car hire company. With Budget, we'll get you on the road quickly, safely and for the best possible price.
Book directly with us to take advantage of:
Free cancellations and changes
Best-in-class service backed by more than 70 years of experience
Speedy pick-ups thanks to our free QuickPass service
Optional extras including one-way rentals, additional drivers and GPS
We aim to make hiring a car as easy as possible. We operate out of 11,000 locations across 165 countries so you're never far from a rental station. Airports, railway stations, seaports and cities – you'll find us all over the place.
Ready to book? Just enter your pick-up location and trip dates into the booking form above, and let's get started.
Enjoy free, no-fuss cancellations
Plans change. We get it. That's why, if you need to cancel a booking, we'll give you a full cash refund – no questions asked. Expect to see the money back in your account within 5 working days.

Our flexible cancellation policy looks like this:
Free cancellations and full refunds on Pay Online (prepaid) bookings up to 48 hours before the day your rental was due to begin
Free cancellations and full refunds on Pay On Collection (pay later) bookings up to the time your rental was due to begin
If you have to cancel less than 48 hours before the day your rental was due to start, you'll receive a full refund minus the lower of i) 2 days of your booking, or ii) a fixed fee depending on the country you booked in (£60, €65, CHF76)
Unfortunately, we don't give a refund for no-shows and a penalty fee may apply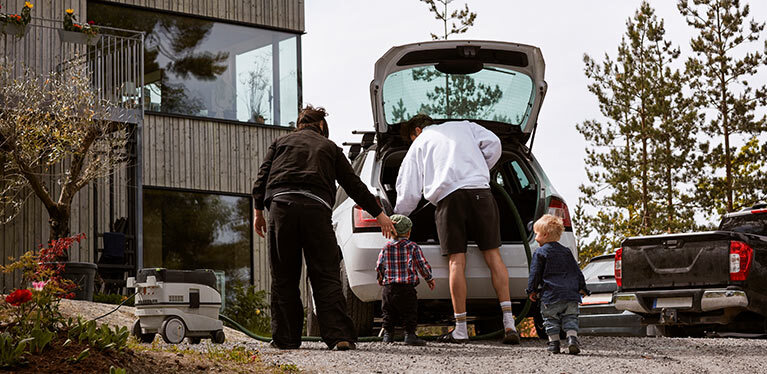 Pick from a wide range of quality vehicles
Whether you need a compact car for zipping through busy city streets, or a spacious people carrier designed to comfortably fit the whole family (and their luggage), we've got you sorted.
We're always adding new vehicles to our fleet, so you'll be able to get your hands on the latest models on the market.
Plus, we're in the process of expanding our eco fleet. With a great choice of electric vehicles, hybrids and plug-in hybrids, you can save on fuel consumption, reduce polluting emissions, and enjoy a super-smooth and quiet ride.
Personalise your journey
With Budget, you only pay for the products and services you actually need. Our wide range of optional extras includes everything from additional drivers to mobile Wi-Fi, so you can design a package that works for you.
Embarking on an epic road trip? With one-way rentals you can pick your car up from one destination and drop it off at another. Want total peace of mind on the road? You can upgrade your cover and say goodbye to excess charges. The choice is all yours.
Budget FAQs: Watch our quick explainer videos
What's the difference between Pay Now and Pay at Location?
What coverage options are available at Budget rental stations?
Which documentation do I need to rent a Budget vehicle?
What is a DVLA code and why do I need it to pick up a vehicle in the UK?