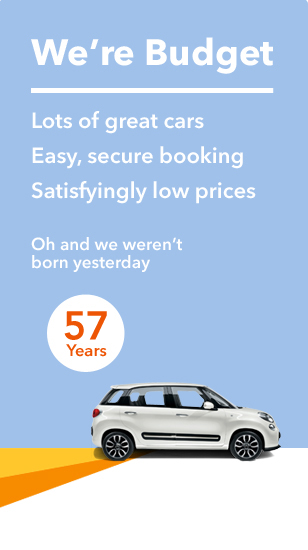 Car hire Heathrow Airport
Explore London with Budget Rent-A-Car London Heathrow Airport, we provide quality hire cars and friendly service at a great value price.
Off on an adventure? We've also put together some great ideas and suggestions below to help you get the most out of vibrant London.
Rent a car at Heathrow Airport Terminal 5
Heathrow Airport Terminal 5
Heathrow Airport T5
London
TW6 2GA
Tel: 03445444600
Opening hours
sunday:

06:00 - 22:00 Hrs


monday:

06:00 - 22:00 Hrs


tuesday:

06:00 - 22:00 Hrs


wednesday:

06:00 - 22:00 Hrs


thursday:

06:00 - 22:00 Hrs


friday:

06:00 - 22:00 Hrs


saturday:

06:00 - 22:00 Hrs

Other Budget locations nearby
Budget Rent-A-Car at London Heathrow Airport
View our convenient Budget London Heathrow Airport car hire location on the map below.
Learn more about Heathrow
Car rental Heathrow Airport
Heathrow Airport's convenient location near to London's attractions enable you to easily reach any destination you have in mind.
Windsor Castle is located less than half an hour away from the airport and is an ideal destination if you're looking for a memorable day out.
If you are feeling a little more adventurous there are many other locations within easy reach, such as Hillingdon, which is home to a selection of parks and gardens or Canary Wharf, which is just under an hour's drive away and offers a wide range of activities, such as ice-skating.
Whatever journey you have in mind, however long or short, you can be assured that your hire car will be reliable enough to enable you to travel from one destination to another in comfort and safety.
In and around London you will find a variety of parks and gardens to explore. Regent's Park and Green Park are located within a 20-mile radius of the airport and are ideal for plant lovers and those who love woodland trails.
There are also similar attractions for those who enjoy bird watching or walking, such as Richmond Park, which is a 25-minute drive from Heathrow Airport and home to red and fallow deer.
The park is conveniently located near to Wimbledon and Kingston Upon Thames, both of which can easily be reached in your Budget hire car.
Explore London and beyond with Budget
Located on the western outskirts of London, Heathrow Airport is the UK's busiest airport. It is conveniently located within easy reach of some of the capital's best-known attractions.
From fascinating art galleries, such as the Tate Modern, which is only half an hour away from Heathrow Airport, to other stunning sights, such as Windsor Castle; the city offers something for everyone.
You can select a car from Budget and easily explore the many attractions surrounding Heathrow Airport. Whether you are planning an educational day out at some of the city's museums and art galleries or wish to hit the high street stores for some retail therapy.
By pre-booking a car rental, you can easily access a wide range of attractions, restaurants and shops. Anyone looking for an interesting day out may like to explore the city's stunning architectural and educational attractions, such as the National Gallery or The Monument, whilst visitors who prefer to relax and explore the sights will enjoy the many parks and gardens in and around London, most notably, Hyde Park and Kensington Gardens.
A car rental will enable you to fit in your planned attractions or activities in a day, as many are accessible by car. We offer vehicles in a range of sizes, so you can easily rent a car that is suitable for a couple or one that can accommodate a family of four or five.
If you are into activities and sports, then Heathrow Airport is located close to many fun attractions, including Legoland Windsor and The Guards Polo Club, which are easily accessible by hire car.
If you need a vehicle that will enable you to carry sports equipment or wish to travel to a particular location as a group, then Budget can provide rental cars to suit your individual requirements.
When you select a car rental, you need not concern yourself about the weather when travelling to or from Heathrow Airport, as all the vehicles are equipped with a selection of features, such as air conditioning and efficient heaters, enabling you to remain comfortable during your journey.
London Congestion Charging zone
If you are planning to drive your Budget hire car within London, then you should be aware of the London Congestion Charging zone.
The Congestion Charge can be paid online, over the phone, at selected retail outlets, or when you pick up your rental vehicle.
Transport for London charge a £10 per day fee for all vehicles driving within the Congestion Charging zone, between 07:00 and 18:00 hours, Monday to Friday.
This fee must be paid by midnight on the day of travel. Alternatively, if you choose to pay by midnight the following day after you drove into the Congestion Charging zone, the fee is £12.
When hiring a vehicle with Budget, it is your responsibility to pay the Congestion Charge. Any unpaid charges and penalties will be recovered from you by Budget.