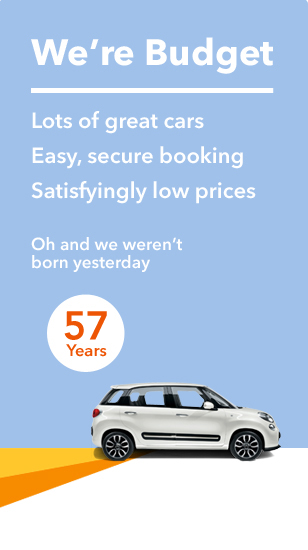 Other car hire locations
Car hire London Battersea
From sporty hatchbacks to spacious people carriers, our Budget Battersea rental location has got lots of quality hire cars.
Rent a car in London Battersea
London Battersea
145 Battersea Park Road
London Battersea
SW8 4BX
Tel: 03445448204
Opening hours
sunday:

Closed


monday:

08:00 - 18:00 Hrs


tuesday:

09:00 - 17:00 Hrs


wednesday:

09:00 - 17:00 Hrs


thursday:

09:00 - 17:00 Hrs


friday:

08:00 - 19:00 Hrs


saturday:

08:00 - 15:00 Hrs

Budget Rent-A-Car in London Battersea
View our convenient Budget car hire location on the map below.
Explore London with Budget Car Hire
Car hire in Battersea, London and beyond
London may be the epicenter of your holiday to England, but do not forget that with a short drive you could see the English Channel. If you fancy something further afield, spend a night on the western coast near Manchester.
Even if you want to stay around London there are plenty of locations to drive to with your Budget options that make car rental cheap. Wimbledon Village offers a fresh look at tennis for sports enthusiasts.
If sport is not your cup of tea, consider the opportunities for retail therapy available in the village with the independently owned shops here. Do not be surprised to see horses being ridden around on some of the streets. When you drive just a short way from Battersea Park Road after you hire a car, you will be able to enjoy the sights around London that make your trip worthwhile.

The Canary Wharf and Docklands area was regenerated in the 1980s but still retains a lot of maritime history right in the centre of London. Regent's Canal offers a bit of tranquility for those who enjoy sitting by the water and watching a few boats go by.

The South Bank and Waterloo allow you to learn about the capital's riverside heritage.

After spending time on the South Bank you could check out the Houses of Parliament across the river, or visit the Southbank Centre that is well known for its modern architecture.

With our service you are certain to find everything you need, from London attractions to top restaurants, in order to have a flexible fun holiday. Why get stuck with the underground timetables that could cause you to miss out on the Changing of the Guard or afternoon tea at the Ritz, when you can rent a car to travel around London.
A walk around the central districts reveals a collection of museums, architecture, restaurants and theatres that typify the credentials of one of the world's great cultural capitals.
Battersea Park Road is just a small section of London that will get you started on visiting all the well-known locations. You could drive around in your rental car to see St. Paul's Cathedral or the British Museum.
If that is not enough, you can quickly move around to the South Bank's Tate Modern, or Sir John Soane's Museum.

London has public transport in the form of buses and the underground, but using these options you are restricted to their schedules. You may miss shopping in Knightsbridge or Chelsea because you are travelling back from another area of London.

Some of the best experiences in London include the London Eye, where you can take pictures of Greater London from the observation wheel. As the sun sinks and the lights come on you will find one of the great iconic images of this world city. Perhaps, before taking a ride on the London Eye, you want to have afternoon tea at the Ritz's Palm Court in Piccadilly. Travelling between these locations with your car makes it easy to do both in the space of one afternoon.

When you're feeling hungry, the East End could be your venue for cocktails before, or after, a French meal at Les Trois Garcons, or you may decide to enjoy an evening at a West End theatre and enjoy a late meal after the performance. There are also live stages around Covent Garden and Soho. Take a moment to park close to where you will have dinner, so that you can stroll around Covent Garden with your family in the evening.