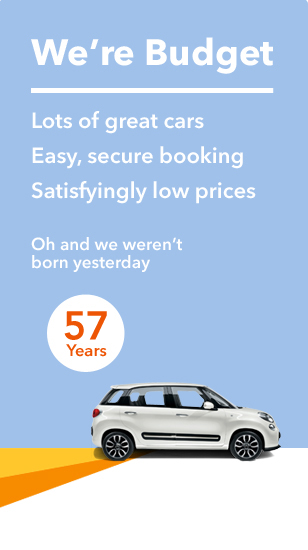 Car hire London Westfield
From sporty hatchbacks to spacious people carriers, our Budget Westfield rental location has got lots of quality hire cars for you.
Ready to go? Simply tell us where you're going and when using our booking form and grab yourself a bargain!
Rent a car in London Westfield
London Westfield
Westfield Shopping Centre
London
W12 7GF
Tel: 03445443893
Opening hours
sunday:

Closed


monday:

08:00 - 16:00 Hrs


tuesday:

08:00 - 16:00 Hrs


wednesday:

08:00 - 16:00 Hrs


thursday:

08:00 - 16:00 Hrs


friday:

08:00 - 16:00 Hrs


saturday:

08:00 - 13:00 Hrs

Picking up and returning your rental car
How to find us:
Picking up your rental vehicle:
On any level of the shopping centre, walk to Lift Lobby 2 location by the Atrium, and select down to Level -2
On Level -2, walk towards the Concierge desk opposite
The rental desk is located directly opposite the Concierge desk, on the left-hand side behind the escalators
If arriving by taxi, the taxi drop off zone is located at the back door of Lift Lobby 2.
Dropping off a vehicle:
Enter the car park from the Ariel Way entrance, keep left following signs to the 'Middle' car park
Take a free ticket from the ticket machine and turn left, following signs for Valet Parking
At the junction for Valet Parking and Exit, turn left towards the exit
Turn right into aisle 52, then left at the end. Follow the road for the nearest parking to the Budget rental desk
Park your vehicle in one of the bays located against the metal fence, directly ahead of you, or in any of middle aisles (except the blue marked bays). Make a note of the aisle number on your ticket.
Walk towards Lift Lobby 2, where the rental desk is located immediately to your right, opposite the Concierge desk
If you're returning your car out of hours, make a note of the aisle number where you parked your vehicle and leave your ticket and keys in the Key Return Box.