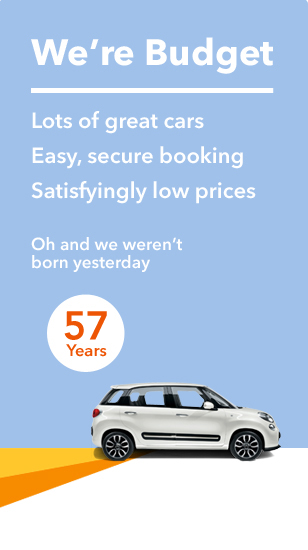 Other related car rental locations
Car hire London Tower Bridge
Discover London with Budget Car Hire, our Tower Bridge location provides quality hire cars and friendly service at a great value price.
Let's go. Enter your rental dates in the form on the right to get a quote.
Get going. We've put together some great suggestions below to help you get the most out of your car hire in historic London.
Rent a car in London Tower Bridge
St Katherine's Way
Tower Bridge Guoman Hotel
London Tower Bridge
E1W 1LD
Tel: 03445442848
Opening hours
sunday:

Closed


monday:

08:00 - 15:00 Hrs


tuesday:

08:00 - 15:00 Hrs


wednesday:

Closed


thursday:

08:00 - 15:00 Hrs


friday:

08:00 - 18:00 Hrs


saturday:

08:00 - 15:00 Hrs

Budget Rent-A-Car in London Tower Bridge
View our convenient Budget car hire location on the map below.
Explore London with Budget Car Hire
Car hire in Tower Bridge, Central London and beyond
If a taste of European history is what you are looking for, you will certainly find it in this area of London, in the form of countless historical monuments and museums.
Anyone who is interested in the arts will find many music venues, as well a theatre and numerous art galleries to be explored. The culinary culture of the city is world famous and you can be sure to find first-rate restaurants in the St. Katherines Way area.
No matter which aspect of the city you wish to explore, arranging our cheap car hire service makes exploring easy, and affordable. St. Katherines Way is located close to the world-famous Tower Bridge and is also near many of London's most popular attractions.
The Tower of London, from which the Tower Bridge takes its name, is one of the most visited places on the tourist itinerary. The castle was built by William the Conqueror in the 11th century and has an important place in the history of the country: not only it is a UNESCO World Heritage Site, it also houses the Crown Jewels.
For another taste of history, you might like to pay a visit to Westminster Abbey, another UNESCO World Heritage Site. This Gothic church has its roots in medieval times and the various restorations that have been carried out since the original structure was completed have incorporated various other architectural styles.
If art is where your interest lies, then you should make a point of paying a visit to the National Gallery. Many of the world's most notable paintings are housed here including the works of some of Europe's best-known masters. With its stunning architecture, the building itself is a work of art.
There are many scenic car trips that may be undertaken from the city of London. All you have to do is decide what type of trip you want to take. If a taste of medieval history is what you are looking for, then you might like to take a trip to Hampton Court.
British kings from the time of Henry VIII have added their own touches to this palace, so the rooms of this palace will be of great interest to history buffs. Trips to Cambridge or Oxford will also enable you to explore a great number of historical buildings and architectural features, such as the spires of Oxford or King's College Chapel in Cambridge. Arranging a car rental from Budget makes trips like this inexpensive. A visit to Windsor Castle is another must for anyone interested in the history of England. The castle has medieval roots and is one of the official homes of the British royal family.
Another popular car trip to take is the one from London to Brighton. This Victorian resort town is perfect for a day by the sea and there are many shopping opportunities available.
To make getting around even easier, most Budget car rental models include GPS, so you should not have any problems finding your way around London or any of the other destinations you might wish to visit.