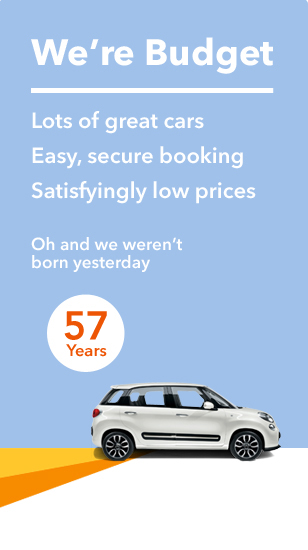 Other car hire locations
Car hire London
London is now a sprawling metropolis and the best way to travel across, through and around it is with Budget car hire. A reliable and efficient vehicle can be hired from many convenient locations in and around the city, so enjoying London's sights and sounds couldn't be easier. Book online for our best deals.
Explore London with Budget Car Hire
Visiting London
There is so much to experience when visiting London, make sure you do you're research to make the most of your time in this magnificent City, from it's beautiful modern architecture and experiences to it's checkered historic past.
London's tourism offers education on one of the worlds greatest cities.
We have compiled some of the best activities and tourism locations to make sure you get the most out of London; Thames River Cruise, Tower of London, Westminster Abbey, London Bridge Experience, Windsor Castle, St Paul's Cathedral, Shakespeare's Globe Theatre, London Bridge Experience.
Some less well known things to think about are British Music Experience - a new interactive museum dedicated to the last 60 years of British music. Kew Gardens - A UNESCO World Heritage Site, stunning London gardens, glasshouses and galleries are a living exhibit as well as an important piece of history.Chislehurst Caves - over 20 miles of dark and mysterious, historic passageways.
Important information: driving in London
London is a difficult city to maneuver. GPS is available from all Budget locations in and around London. The M25 motorway loops around the city and is a key transportation route, it is clever to avoid the busy times between 7am and 9.30am and 4.30pm and 7pm.
London is a large commuter City so people head into London in the morning, and out in the evening, so driving from Heathrow to Central London in the evening will be easier than in the morning.
Road congestion
Due to heavy road congestion, Cycling is popular in London, and Mayor of London, Boris Johnson introduced an incentive scheme to encourage all to cycle, like Barclay's Cycle Hire (or the Boris Bikes).
You will be able to find Boris Bikes on most roads in central London, they allow you to rent a bike for your journey or just for fun! Cyclists tend to be good at staying safe, but remember to stay alert when driving or Cycling, due to the heavy number of cars and cyclist, we must be very aware when driving in London.
Road markings
If you're not familiar with the UK, Zebra crossings (recognisable from their black and white striped lines across the road) are used often on road and provide a safe right of way to pedestrians, when someone is standing on a zebra crossing, make sure you stop to let them go and do so until you are the road is clear.
Parking in London
Parking in London can be tricky, when parking, make sure to check whether parking permits are required during weekday daytimes. Parking permits are given to local residents, and are not available to visitors. You may also need to pay a meter when parking. There are a number of multi story car parks in London, so keep your eyes peeled.

Discover Greater London with a hire car
If you hire a car to discover the South of England, don't miss the world famous Windsor Castle and the beautiful Thames Valley.If you are planning to visit Brighton on the south coast, hiring a car is a great way to get there and back in a day. However, you may like to stay for a night and enjoy the entertainment centre at Brighton pier.

Congestion charges in LondonDrivers entering central London must have permits when driving within the congestion zones between 7am and 10pm, 7 days a week (look out for the Congestion Charge signs). The charge is payable on a daily basis. The official site has maps and details on how to pay the charge.
Budget locations in London
Please use the booking tool to the left to find out more information about these locations.
Budget Car Hire London Victoria Train Station
Telephone: 0344 544 6140

Budget Car Hire London Battersea
Telephone: 0344 544 8204

Budget Car Hire City of London Airport
Telephone: 0344 544 6030

Budget Car Hire London Gatwick South Airport
Telephone: 0344 544 6001
Budget Car Hire London Heathrow Airport Terminal 2, 3 & 4
Telephone: 0844 544 6000
Budget Car Hire London Heathrow Airport Terminal 5
Telephone: 0844 544 6000
Budget Car Hire London Stansted Airport
Telephone: 01279 681 396