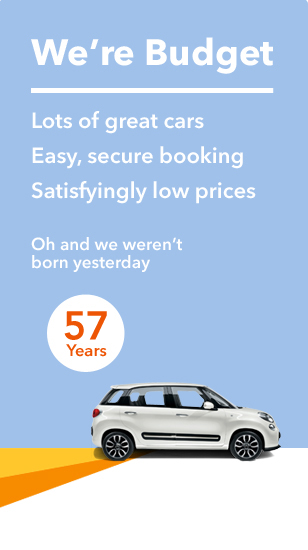 Other car hire locations
Car hire Munich Airport
Don't miss any of Munich's delights with cheap car rentals If you're interested in a renting a car with Budget then all you need to do is complete the form on this page. Renting a car is the best way to ensure that you explore all the attractions outlined below.
Rent a car at Munich Airport
Munich Airport
Airport Munich
Munich
85356
Tel: +49 69710445596
Opening hours
sunday:

07:30 - 19:00 Hrs


monday:

07:30 - 19:00 Hrs


tuesday:

07:30 - 19:00 Hrs


wednesday:

07:30 - 19:00 Hrs


thursday:

07:30 - 19:00 Hrs


friday:

07:30 - 19:00 Hrs


saturday:

09:00 - 15:00 Hrs

Budget Rent-A-Car at Munich Airport
View our convenient Budget car hire location on the map below.
Learn more about Munich
Explore Munich in a Budget rental car
Munich is one of Germany's most prosperous cities and the third largest in the country.
Based beside the Isar River, this massive city is bursting with cultural attractions and delightful distractions.
Despite being bombed badly during World War II, many of the buildings were rebuilt. This means that any visitor can enjoy the city, as it would have appeared in the late 19th century. Once you've sorted out your car, a good place to drive to first is Marienplatz.
Attractions in the city
The main attraction is the Neues Rathaus (New City Hall) adorned with the Glockenspiel that sets its figures dancing every hour. Here you'll also find a golden statue of the Virgin Mary.
If you enjoy exploring churches then there is a range to choose from, all of which are easily accessible by hire car.
The Asamkirche is an example of Rococo architecture and is beautifully decorated with frescoes. North of the Alps is Michaelskirche, this is the biggest Renaissance church in the region and contains an interesting crypt.
There's also Peterskirche, which, if you're willing to climb its 306 steps, offers a good panorama over Munich's city centre.
For more information on the city's interesting history you can also find an array of museums and galleries. The Münchner Stadtmuseum contains displays which cover both Munich's past and present.
The Deutsches Museum is considered to be one of the world's best scientific and technical museums. You can read up on a wide range of topics including aviation, civil engineering and breweries.
Oktoberfest and beer gardens
If you're more interested in sampling the products of the breweries, then another of Munich's main attractions is Oktoberfest.
Millions of visitors come from all over the world to drink Maß (one litre glasses of beer) and eat bratwurst.
If you can't make it for this festival then you can find beer gardens and beer halls scattered throughout the city. The Hofbrauhaus is particularly popular.
The English Garden
To escape from the bustle of the city, the Englischer Garten (English Garden) is a large park filled with grassy and woody areas.
It was established in the late 18th century and stretches out over 3.7km2, making it one of the biggest urban parks in the world.
It contains a wide array of attractions including the Japanisches Teehaus, Kleinhesseloher Lake and the Chinesischer Turm, a wooden tower surrounded by a beer garden.
Renting a car in Munich
Organise a car rental to make the most of your trip to Germany. Augsburg, Germany's third oldest city is located about 40 miles from Munich.
It's worth starting off at the central Rathaus then getting lost in the winding streets of the Altstadt (Old City).
A particularly unique aspect of Augsburg is the Fuggerei, which is the oldest social housing complex in the world that is still actually operating.
With cheap car hire you can also visit the smaller towns around Munich. Landsberg am Lech is exceptional because of its beautiful 15th century gate tower.
Dachau is just on the outskirts of the city and worth a visit as it is home to the first Nazi concentration camp.
Open to the public and with a very informative museum, you can get a real sense of the horrors that took place at that time.
Visit the Alps!
Having a car is also a great way to visit the Alps. In only one and a half hours you can reach the beautiful town of Kempten and from there you can easily head into the mountains.
In the winter, skiing and snowboarding are very popular. However, in the warmer months people tend to go to the numerous hiking trails.
Or you can simply enjoy driving your car along the winding mountain roads.