Car hire Frankfurt Airport
Visit Frankfurt with Budget Car Hire. Our promise is simply better value car hire - providing economy car rentals with the high level of service you expect when you hire a car for business or holidays.
Get away. We have compiled some great suggestions below to help you get the most of your Frankfurt car hire.
Rent a car at Frankfurt Airport
Frankfurt Airport
Frankfurt Airport Terminal 1 And 2
Frankfurt
60549
Tel: +49 69710445596
Opening hours
sunday:

06:00 - 23:00 Hrs


monday:

06:00 - 23:00 Hrs


tuesday:

06:00 - 23:00 Hrs


wednesday:

06:00 - 23:00 Hrs


thursday:

06:00 - 23:00 Hrs


friday:

06:00 - 23:00 Hrs


saturday:

06:00 - 23:00 Hrs

Other Budget locations nearby
Budget Rent-A-Car at Frankfurt Airport
View our convenient Budget car hire location on the map below.
Learn more
Car hire Frankfurt
There are several places close by that are interesting to visit. If you enjoy the outdoors, you will want to keep these places in mind.
The Taunus mountains are nearby, and are considered to be good places for hiking. Other nearby hiking areas that are ideal include the Odenwald and an extinct volcano known as the Vogelsberg.
Securing car rental cheap makes these places easily accessible. Two interesting cities are located within a 45 minutes' drive from Frankfurt.
These include Mainz, a historic city on the Rhine, and Wiesbaden, a city famous for its spas. Another good place to visit, which is about an hour away, is Cologne. One of the chief attractions in this picturesque city is its cathedral.
Any drives that you take to visit these places will be very pleasant, and the scenery is enjoyable. When you take advantage of cheap car rentals, you'll find that the drive is very pleasant.
Explore Frankfurt with Budget Car Hire
Frankfurt is on the River Main, and is the largest city in the state of Hesse. This city is one of Europe's main financial centres, and is also home to the biggest airport in the country.
Frankfurt has a good mixture of historical attractions and modern buildings, as well as museums and beautiful parks. There are also many places to eat and a fairly active night life.
Because of the variety of attractions, visitors of all ages and backgrounds will find something interesting.
A cheap car rental is the ideal way to see the different attractions, because you can effortlessly travel from one place to another.
When you hire cars from us, you can easily access the great shops and restaurants that may be found along the way to different locations.
This gives you the freedom to literally see what you want, whenever you want. Frankfurt is best experienced when you can take enough time to thoroughly enjoy the sites.
There are many attractions that appeal to history lovers, including the old Romerberg centre, the Hauptwache and Paulskirche.
These have been beautifully preserved, and are an interesting contrast to the modern buildings of the city centre. Some of the best museums include Museum Giersch, Museum für Kommunikation and the Jüdische Museum. These museums bring the area's fascinating history to life.
A car rental is a good option, because you can reach the various attractions much more easily and don't need to worry about finding taxis or buses. We offer a variety of different vehicles to meet your needs, so you can easily find one that is perfectly suited to your preferences.
If you enjoy the outdoors and like to see natural attractions, some nice parks include the Palmengarten, Grüneburgpark and the zoo. The parks have a variety of botanical species to enjoy, and the zoo has enough animals to appeal to all ages.
You may also wish to explore the areas along the River Main, and access to a car makes this easy. When you travel, a cheap rental car is a good option. You should also make sure that you have a vehicle of the right size.
We can easily accommodate all of your transport needs, regardless of the number of people you're travelling with. Frankfurt has a fairly mild climate in comparison to many other German cities.
Summers can be quite hot, and it's not uncommon for temperatures to reach 35°. Winters can be very rainy in this area, and the air temperatures can feel a bit chilly. When you have a reliable car to use, changes in the weather need not be a problem.
Cars from Budget use heating and air conditioning to make sure that you are comfortable at all times, so consider your hire car options.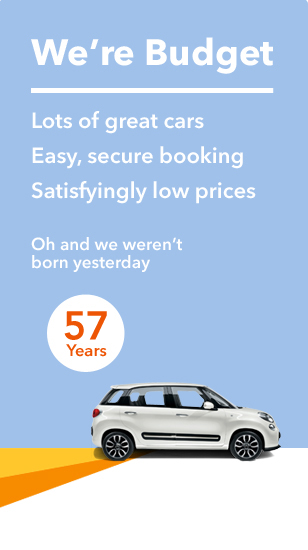 Other car hire locations