Car hire Dusseldorf Airport
Dusseldorf International Airport is located five miles from the city centre. Our Budget Car Hire location can be found within the main arrivals hall of the terminal building.

Car keys ready? We have compiled some great suggestions below to ensure you get the most of your Dusseldorf car hire.
Rent a car at Dusseldorf Airport
Dusseldorf Airport
Terminal Ring 1
Duesseldorf
40474
Tel: 0049 211 4216747
Opening hours
sunday:

07:00 - 23:00 Hrs


monday:

06:00 - 23:00 Hrs


tuesday:

06:00 - 23:00 Hrs


wednesday:

06:00 - 23:00 Hrs


thursday:

06:00 - 23:00 Hrs


friday:

06:00 - 23:00 Hrs


saturday:

07:30 - 19:00 Hrs

Other Budget locations nearby
Budget Rent-A-Car at Dusseldorf Airport
View our convenient Budget car hire location on the map below.
Learn more about Dusseldorf
Car hire Düsseldorf
Düsseldorf has plenty of surrounding areas to travel to for a day out away from the main city. Around 17 miles to the north west of Düsseldorf is Krefeld, as well as Krefeld Zoo which houses more than 1000 animals.
There are also some magnificent botanical gardens. With cheap car hire rates that are available with visitors can fully explore the surrounding areas of the city.
Also near to the main city there are plenty of other cities and towns that can be visited using a hire car such as Cologne, which is around 23 miles south and has spectacular architecture and is a very popular place to visit for a day out.
In the opposite direction to the north is Duisburg where you could head down to the harbour or explore the many places of architectural interest.
Northeast of the city is Essen, a large city that dates back to the 9th century and with a hire car from Budget you can explore its museums, shops and restaurants.
Explore Dusseldorf with Budget Car Hire
Düsseldorf is the capital of the North Rhine-Westphalia state in Germany and is situated on the River Rhine. Well known for its culture, the city has plenty of attractions and things to do during your stay and with cheap car rental there will be no limit to where you can go.
One area of Düsseldorf is the Altstadt or Old Town where there are plenty of beautiful churches along with many of the city's cultural attractions including the Deutsche Oper am Rhein, Museum Kunstpalastor or the Kunstsammlung Nordrhein Westfalen. These are all within the Old Town centre.
Museum Kunst Palast is a well known magnet for visitors in the city that showcases some of Europe's historic paintings and glassware.
With a total of 26 museums and over 100 galleries you will find that your days in the city will be jam packed with things to see and do.
Throughout the year in Düsseldorf there are a number of festivals that range from music and dancing to the Open Source Summer Festival.
Along with the vast array of museums, like the Löbecke Museum, there are other attractions like Aquazoo for a different type of day out in the city and with car rental cheap rates available from Budget you will never be stuck for a place to go or a sight to visit.
For a relaxing day around the city, why not visit one of the many parks including Hofgarten or Nordpark that has a Japanese garden nestled in the north west corner.
We can offer cheap car rentals so you can easily travel to one of the many sporting venues around the city that includes Fortuna Düsseldorf football stadium called the Esprit Arena or the ISS Dome that plays host to the city's Ice Hockey team the DEG Metro Stars.
For golf lovers, a visit to Golfclub Kosaido is a must. The weather conditions will be enjoyable no matter the season you choose to visit as in common with the rest of the lower Rhineland, Düsseldorf has cool winters and warm summers.
Whatever the weather a hire car from us will ensure that getting around is comfortable. Every model of the rental cars available from us is reliable and has sufficient climate control.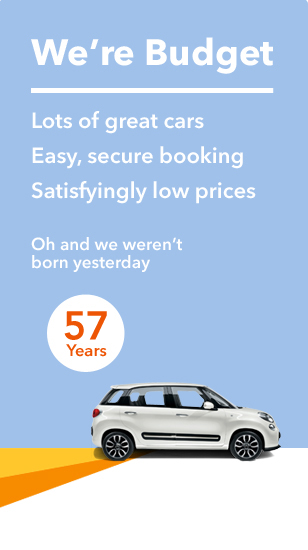 Other car hire locations