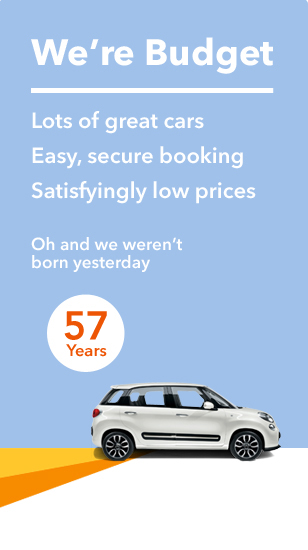 Other car hire locations
Car hire Copenhagen Airport
Explore vibrant Copenhagen with Budget car hire. Our car rental desk is located in Copenhagen Airport's arrivals hall.
Going on an adventure? We've put together some great ideas below to help you get the most out of your car hire in Copenhagen.
Rent a car at Copenhagen Airport
Copenhagen Airport
Car Rental Centre - Cph
Kastrup
2770
Tel: +45 3328 6360
Opening hours
sunday:

08:00 - 23:00 Hrs


monday:

07:00 - 23:00 Hrs


tuesday:

07:00 - 23:00 Hrs


wednesday:

07:00 - 23:00 Hrs


thursday:

07:00 - 23:00 Hrs


friday:

07:00 - 23:00 Hrs


saturday:

07:00 - 22:00 Hrs

Budget Rent-A-Car at Copenhagen International Airport
View our convenient Budget car hire location on the map below.
Learn more about Copenhagen
Car rental in Copenhagen
It is possible to get car rental cheap in Copenhagen through Budget, a company solely focussed on renting out quality cars to drivers looking for a bargain.
Budget makes rental cars available from the most convenient locations, with the airport being one of them.
The airport is within easy reach of the centre of Copenhagen. Getting car hire cheap in the city will allow music lovers to visit all the events that Copenhagen is known for, some of which take place annually.
Each July, the squares, streets and plazas of the city are taken over by a range of jazz events attended by prominent jazz musicians and their fans. In addition to the open spaces that the city benefits from, it also has a number of venues that can be reached with the use of rental cars.
Outside of this summer period, visitors to the city will also be able to enjoy entertainment on Strøget, where magicians and acrobats perform alongside each other.
The Vesterbro district is home to the Vega music venue, which plays host to a number of different artists and events from a number of different genres.
Copenhagen Opera House and Concert Hall are venues where classic events take place.
Copenhagen
Copenhagen is Denmark's capital city and is a popular destination for tourists from both inside and outside the country.
It is home to a range of activities and sights that make it worth investing in a hire car during a break in the most highly populated city in Denmark.
Its role as the country's main city means that Copenhagen can boast a wide range of attractions that draw large numbers of tourists year after year.
Situated on the western coast of Denmark's island of Zealand, Copenhagen boasts a harbour that proves to be a lure for many for a number of different reasons.
Fronting the Baltic Sea and with water that has a reputation for being the cleanest in the world, the harbour is used for a range of water sports, including swimming.
This high level of cleanliness extends to the rest of the city, which is known for being environmentally friendly; this is easy to see while travelling around the city.
While in Copenhagen, it is handy to be able to rent a car in order to take a trip to the coast, which is a perfect place to relax and take in the view of the water.
In addition, the close proximity to Sweden means it can be seen across the water and a short ferry ride is all it will take for a visit to the neighbouring country.
The architecture of the city is impressive and can be admired during a trip through the city. There are a range of places to go in Copenhagen, especially for those who are seeking to extend their knowledge and learn about Danish culture and history.
This can be achieved through attending the range of museums that Copenhagen has to offer, which have come about after a significant amount of cultural investment.
Copenhagen is home to Denmark's National Museum, which holds the country's largest collection of archaeological and historical artefacts. The Louisiana Museum of Modern Art is famed not only for the magnificent design pieces it contains but also because of its impressive location atop a cliff that overlooks the Øresund area.
Art lovers will also find that cheap car rentals are an ideal way to check out the art scene in Copenhagen, whether on a modern, contemporary level or whether in relation to pieces that are centuries old.