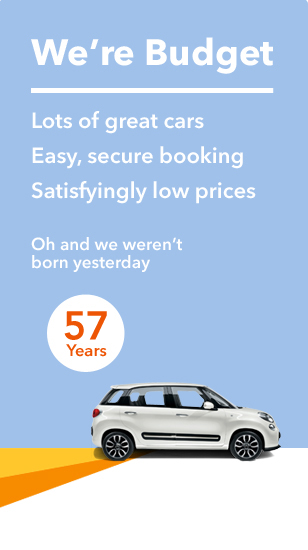 Popular Destinations
Car hire Vienna Airport
Discover Vienna with Budget Rent-A-Car Vienna Airport, we provide quality hire cars and friendly service at a great value price.
Get going. We've also put together some great ideas and suggestions below to help you get the most out of Vienna.
Rent a car at Vienna Airport
Vienna Airport
Flughafen Wien Schwechat
Wien

Tel: +43 50 5858 5860
Opening hours
sunday:

08:30 - 22:00 Hrs


monday:

08:30 - 22:00 Hrs


tuesday:

08:30 - 22:00 Hrs


wednesday:

08:30 - 22:00 Hrs


thursday:

08:30 - 22:00 Hrs


friday:

08:30 - 22:00 Hrs


saturday:

08:30 - 17:00 Hrs

Learn more about Vienna
Car hire with Budget in Vienna
Vienna Airport is located to the south east of the city around 12 miles from the centre, which makes renting a car from Budget a good idea.
The city of Vienna, the capital of Austria, is alive with things to do and see the all year round. From museums and galleries to festivals and shopping, there will be something for everyone in this historic city.
Being a thriving and vibrant city, a great way to see as much as possible is to rent a car, that way you can travel further from the centre independently to see all it has to offer.
Our service is known for being affordable and reliable, making it the most convenient way to visit the numerous places of interest, such as the Anchor Clock or Belevdere Palace, which is located not far from the centre of Vienna.
You can park your hire car and take a walk to view the splendour of the building and stroll through the beautiful grounds or visit the museums that are home to exhibits recording the history of the country.
Vienna has a National Theatre that presents many varied plays and shows; it is located opposite the city hall, within the first district. Other places of interest include Haas House, Karlskirche, an amazing cathedral and the Hofburg, which was originally a medieval castle.
If you are staying for a period of a few days you will have much more time to explore the city and there is no shortage of museums to visit, including the Museum of Applied Arts, Museumsquartier or the Sigmund Freud Museum, which celebrates the well-known psychologist's life and work.
Anyone looking for a change from sightseeing should visit Schönbrunn Zoo, which is perfect for those on holiday with young families. For a fun day out, a trip to the Prater Funfair provides a great change of pace. No matter where you decide to go within the city, pre-booking a cheap car rental deal with us is the best way to see the city and travel far afield and economically.
Sporting activities in and around Vienna includes golf in the summer and skiing in the winter, along with many other activities to choose from. Taking advantage of one of our deals will enable you to visit a number of the golf clubs around the city including Golf Club am Wienerberg, Golfclub Wein Freudenau or Club Danube Golf-Wien.
In close proximity to the Alps, Vienna has access to some great skiing resorts suitable for all levels of skier. Vienna is a 'green' city, with plenty of parks to spend the day relaxing in and hiring a car means you can travel to any number of them at your own leisure.
The city enjoys a moderate climate and no matter what time of the year you travel the weather will be typical of the season, warm in the summer and cold in the winter.
Our range includes a variety of models and regardless of the weather you will have a reliable mode of transport to get you around the city.
Baden, a picturesque spa town, is situated some 16 miles south of Vienna and easily accessible by car, is set in the hills of the Vienna woods. The village of Grinzing is only five miles from Vienna and is notable for its Roman ruins.
Hermannskogel Mountain is easily reached by road and booking with us means anyone can easily reach this high point of Vienna to enjoy the spectacular views or go hiking along the mountain paths.