Find Cheap Car Rental at Milan Linate Airport (LIN)
If you love what Milan has to offer then make sure you can see it all by opting for a cheap hire car from Milan Linate Airport. Milan is a heady mix of awe-inspiring architecture, vibrant street life, famous art and of course, world-class shopping. What's more, with a hire car you can explore beyond the city limits and check out some great destinations nearby like Lake Como.
We've got sizzling hot car rental deals at Milan Linate Airport just waiting to be snapped up. To book your car with Budget, simply enter your details into the booking form and choose from a wide range of vehicles at economical prices. Whether you need a compact 3-door or SUV, we have what you are looking for.
Ready to go? Read on to learn about the main attractions of Milan and how to explore the surrounding region.
Rent a car at Milan Airport
Milan Linate Airport
Milan Linate Airport
Milan
20090
Tel: 3902715123
Opening hours
sunday:

07:30 - 23:59 Hrs


monday:

07:30 - 23:59 Hrs


tuesday:

07:30 - 23:59 Hrs


wednesday:

07:30 - 23:59 Hrs


thursday:

07:30 - 23:59 Hrs


friday:

07:30 - 23:59 Hrs


saturday:

07:30 - 23:59 Hrs

Budget Rent-A-Car at Milan Linate Airport
View our convenient Budget car hire location on the map below.
Hire a car at Milan Airport to get the most out of your trip
Explore Milan with a cheap hire car from Milan Airport
Renowned for being the capital of fashion, Milan is also an impressive cultural hub.
It is home to a multitude of galleries, museums and cathedrals as well as places of natural beauty, all easily reachable by car.
Then, once you've finished exploring, you can relax with a coffee or enjoy other local gastronomic delights.
Art in Milan
Art lovers should start their visit off at the Santa Maria delle Grazie where they'll find Leonardo da Vinci's famous painting of The Last Supper.
The massive Sforzesco Castle is home to the Museum of Historic Art, which houses sculptures, including Michelangelo's Rondanini Pietà. Here you will also find a gallery of works painted by artists such as da Vinci and Mantegna.
If you're more interested in medieval and Renaissance creations then the Pinacoteca di Brera boasts one of the best collections in Italy.
Architecture in Milan
In addition to the beautiful indoor creations, much of the external architecture in Milan is stunning. Duomo di Milano (Milan Cathedral) is the biggest Gothic cathedral in the world.
Located in the Milanese Piazza, it took about 400 years to build and consists of 96 gargoyles, 135 spires and 3,400 statues.
On a smaller scale is the Church of Santa Maria delle Grazie. Designed by Donato Bramante, its design is based on a 9th century church.
A car rental will also take you to the Arch of Peace and the Grand Galleria Vittorio Emanuele II.
Shopping and fashion
No trip would be complete without splashing a little cash. Whether you prefer designer boutiques or cheaper outlets, you'll find it all on Milan's high streets.
The main area, known as the Fashion Quadrangle, is home to some of the world's most distinguished fashion brands including Prada, Dolce & Gabbana and Gucci.
You can also lose yourself on Europe's biggest shopping street, Corso Buenos Aires. Either way, a car is advisable to transport all of your luxury finds back to the hotel.
Tranquillity and food
For a little tranquillity, Milan contains a range of parks and gardens, including Sempione Park and Giardini Pubblici, which is one of the city's oldest parks.
The piazzas are also ideal for a relaxing drink or a meal. The medieval Piazza Mercanti is popular for its Christmas markets selling local products.
At the Piazza del Duomo you can also find a wide selection of venues serving high quality dishes.
Food enthusiasts should visit the city of Parma, where Parma ham and Parmesan cheese originate. Needless to say, restaurants in the vicinity are worth visiting.
Here you can also explore the 12th century Baptistery and the stunning frescos of the Romanesque cathedral. If you want to head out a bit further then Bologna is worth a visit.
Also acclaimed for its delicious dishes, the city is a delight to walk around with stunning porticoed walkways and picturesque squares.
Lakes and towns
If you can tear yourself away from the dazzling boutiques then you should explore the stunning lakes and picturesque towns in the vicinity.
If you rent a car, Lake Como is only about a half an hour drive away from the city. Beside the lake you can drive to Como and explore its impressive historic centre and bustling squares, before continuing on to Lecco on the south-eastern side of the lake.
Another great trip idea with a car is to take a head towards Pavia, only about 20 miles south of Milan. Although it's renowned for having contained 100 towers, you'll find just a few left in the town. However, the Medieval and Romanesque structures in the centre make up for this loss.
Just an hour away in your car is Cremona. Famous for its Stradivarius violins, it also contains a stunning historic centre that consists of a bell tower built in the 13th century and a Romanesque cathedral.
Why book with Budget?
Special measures and deepcleaning sanitisation protocols protect our customers and provide a safe and flexible travel experience.
No need to worry if your plans change. With our flexible car hire you can amend or cancel your booking for free and receive a full refund.
Fast-track online check-in service
Save time with Budget contactless checkin service. Your vehicle will be ready and waiting for you so you can be on your way quickly and safely.
Hassle-free long-term rentals
Rent a car for as long as you need with our flexible and lowcost long-term car rentals.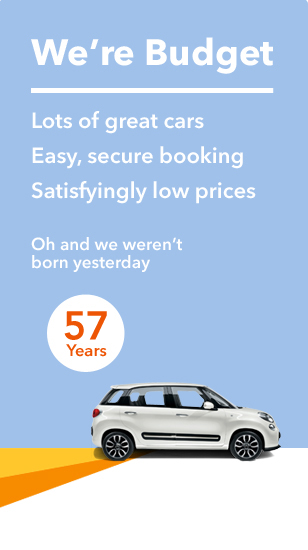 Other car hire locations