Cheap Car Hire at Miami Airport (MIA)
Enjoy your time in Miami with Budget Car Hire. Our airport location provides quality hire cars and friendly service at a great value price.
Let's go. Enter your rental dates in the form on the right to get a quote.
Car keys ready? We have put together some great suggestions below to ensure you get the most of your Florida car hire.
Rent a car at Miami Airport
Miami International Airport
Mia Miami International Airport
Miami Intl Airport
33142
Tel: 305-876-1820
Opening hours
sunday:

05:00 - 01:00 Hrs


monday:

05:00 - 01:00 Hrs


tuesday:

05:00 - 01:00 Hrs


wednesday:

05:00 - 01:00 Hrs


thursday:

05:00 - 01:00 Hrs


friday:

05:00 - 01:00 Hrs


saturday:

05:00 - 01:00 Hrs

Other Budget locations nearby
Budget Rent A Car at Miami International Airport
View our convenient Budget car hire location on the map below.
Explore Miami with Budget Car Hire
Car hire in Miami and Florida
Located on the south-eastern coast of the United States, Miami is Florida's biggest metropolitan area. Boasting a hot climate temperature all year round you'll be glad of the air conditioning in your hire car as you discover all that this region has to offer.
For those keen on seeing celebrities, Star Island, as the name suggests, is the right place to go. However, the architecture itself on this man-made island is glamorous enough if you fail to find anyone famous
For an even more awe-inspiring building, the Vizcaya Museum and Gardens is located on Biscayne Bay. It consists of a stunning main house backed off by ten acres of beautiful gardens.
Miami doesn't only offer glitz and glamour, as there are also numerous museums to visit. Based in Florida International University is the Frost Art Museum, home to a variety of interesting pieces including American photographs from the 60s and 70s and pre-Columbian relics that date back as far as 500 AD. More art can be found at the Lowe Art Museum, which has sculptures and pottery from the Baroque, Renaissance and Greco-Roman eras.
Children or the young at heart can enjoy the multitude of fun activities at Oleta River State Recreation Park. This is Florida's biggest urban park and it contains playgrounds, cycling trails and a private beach.
You can also take a kayak or a canoe out to a mangrove island, home to fiddler crabs and eagles. Over 1,200 animals from all over the world can be discovered at Zoo Miami.
Alternatively, Jungle Island is a mass of tropical gardens with even more animals and interesting displays. Being located next to the sea, Miami also offers visitors opportunities to get closer to the nature that lives in the watery depths.
The Miami Seaquarium, easy to reach with a car, is made up of about 38 acres of tropical vegetation. Here you can learn more about marine life through a range of shows and exhibits. Close to Biscayne Bay is Matheson Hammock Marina. This consists of a man made pool and nature pavilions as well as a restaurant and marina.
No trip to Miami would be complete without visiting the beaches. There's no beach in the city itself, so rental cars are advisable if you'd like to see them all.
The closest is Miami Beach, located across the Biscayne Bay. Due to the sunny weather, the beaches are always bustling but in winter the sea tends to be too cold to swim in
As well as sandy beaches, Miami is also just a short distance away from two stunning National Parks. If you're going to have a car, you should drive to the Everglades National Park. Walking around this park you could come into contact with alligators, great blue herons and anhingas.
With a cheap car rental deal you could also take a day trip to Biscayne National Park.
Here you'll see part of the third biggest reef in the world, ideal for snorkelling or viewing from a glass-bottomed boat. If you want to really take advantage of having a car, then you can drive a bit further out to Florida Keys.
Renowned for its rich cultural blend, this coral archipelago is made up of 45 islands. It's popular for scuba diving where you can come face to face with stunning sea life or explore shipwrecks on the seabed.
With a car, you will also be able to head towards two other main attractions in the region.
Orlando is renowned for its theme parks. These include Walt Disney World, which consists of four theme parks, and Universal Orlando, which is composed of two theme parks.
The other place to visit is Space Coast. Located around the Kennedy Space Centre, the best way to visit is with the convenience of a hire car.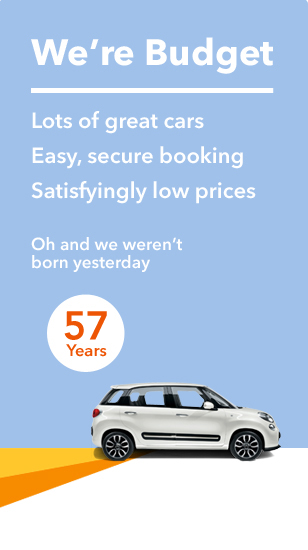 Other car hire locations