Cheap Car Hire at Tampa Airport (TPA)
Go on an adventure in Tampa with Budget Car Hire. Our airport location provides quality hire cars and friendly service at a great value price.
Let's go. Enter your rental dates in the form on the right to get a quote.
Car keys ready? We have put together some great suggestions below to ensure you get the most of your Tampa car hire.
Rent a car at Tampa Airport
Tampa Airport
Tpa Tampa International Airport
Tampa
33607
Tel: 813-396-3126
Opening hours
sunday:

00:00 - 23:59 Hrs


monday:

00:00 - 23:59 Hrs


tuesday:

00:00 - 23:59 Hrs


wednesday:

00:00 - 23:59 Hrs


thursday:

00:00 - 23:59 Hrs


friday:

00:00 - 23:59 Hrs


saturday:

00:00 - 23:59 Hrs

Other Budget locations nearby
Budget Rent-A-Car at Tampa International Airport
View our convenient Budget car hire location on the map below.
Explore Tampa with Budget Car Hire
Activities in Tampa
Florida is the number one destination in the United States for British holidaymakers and Tampa is the ideal arrival point for exploring all that the great sunshine state has to offer.
Tampa is built around a beautiful bay, making it a city full of bridges, which is why even visitors who are not travelling far will need to rent a car to see the best of this west coast location.
Downtown Tampa is a beautiful area to visit, with some buildings of great architectural interest. Hyde Park village, just off Bayshore Boulevard, is one of the best-preserved areas of old Tampa, with restaurants, boutiques and Victorian buildings.
Ybor City is a great district and is the centre of the Latin American community. The area was the centre of cigar production before the Great Depression of the 1930s, providing jobs to more than 4,000 people who hand-rolled over 900,000 cigars a month.
It is now a great venue for evening entertainment, with hot nightspots and a great choice of restaurants. Seventh Avenue is also a popular nightspot, with some of Tampa's most historic buildings and a pedestrian-only policy on Fridays and Saturdays.
The Columbia Restaurant is Florida's oldest Spanish restaurant and well worth a visit. It started small in 1905 and now seats over 1,600 diners, who enjoy the Spanish cuisine and entertainment. There is also a great aquarium in Tampa with different galleries, showing the diverse aquatics of the Florida wetlands, bays, beaches and coral reefs.
Lowry Park Zoo is an ideal place for the whole family, and while it is within the city limits, hiring a car is considered to be the best form of transport to this tourist attraction.
There are more than 2,000 animals to see, scattered around 56 acres of well-maintained parkland. There is free parking, a restaurant and full facilities for the disabled available.
You will find driving in Florida is relatively easy with good freeways and plenty of child-friendly diners along the route. Florida is a golfer's paradise and Tampa Bay boasts more than a hundred top rated courses, all beautifully designed to make the most of Florida's climate and natural scenery.
There is no off-season for golf in Tampa; whether you are a scratch player or your handicap is in double figures, there is a course to suit everyone. You can drive to a different course every day and you'll still have plenty more left for another visit.
Clearwater Beach, to the west of Tampa, provides a fabulous day out for families. A visit to Captain Nemo's Original Pirate Cruise will give your children a holiday trip to remember. Cheap days out for all the family can be found if you have several children to entertain.
The Clearwater Beach area, with its white sand and crystal-clear water, is just the place to go to relax as a family. Visit the Wilderness Park on the Hillsborough River for an adventurous family day out.
It is a world away from the beaches of Florida, but for thrills and excitement it must not be missed. Accessible from Tampa by car, there are kayaking thrills to be had for kids and parents, with some remarkable sightings of alligators and great photo opportunities.
If you want to take a longer holiday, the city of Orlando, home of Walt Disney World, is only 78 miles from Tampa, and with good connecting roads and our cheap car hire, this a great choice for families. There is so much to see here that it is be advisable to stay longer than a day.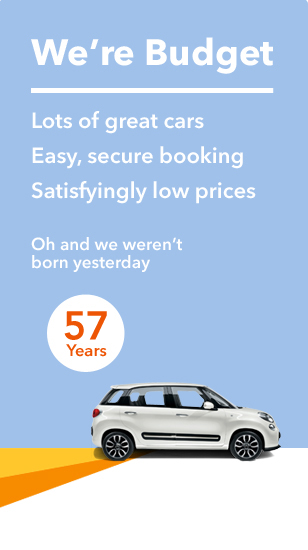 Other car hire locations