Car hire Boston Airport
Treat yourself with a Budget hire car, and start your trip directly from Boston Airport. Our airport location provides quality hire cars and friendly service at a great value price.
Let's go. Enter your rental dates in the form on the right to get a quote.
Car keys ready? We have put together some great suggestions below to ensure you get the most of your Boston car hire.
Rent a car at Boston Airport
Boston Airport
Bos Logan International Airport
East Boston
02128
Tel: 617-568-6601
Opening hours
sunday:

00:00 - 23:59 Hrs


monday:

00:00 - 23:59 Hrs


tuesday:

00:00 - 23:59 Hrs


wednesday:

00:00 - 23:59 Hrs


thursday:

00:00 - 23:59 Hrs


friday:

00:00 - 23:59 Hrs


saturday:

00:00 - 23:59 Hrs

Budget Rent-A-Car at Logan International Airport
View our convenient Budget car hire location on the map below.
Explore Boston with Budget Car Hire
Scenic car rental rides from Boston Airport
There are several scenic car rides to be enjoyed when you visit Boston. If you happen to be visiting the city in the autumn, you can marvel at the breathtaking scenery of New England's countryside.
Many farms and orchards grace this part of the country, which help to make it a striking place to visit in autumn when the leaves on the trees turn red and gold.
Plymouth Rock
For those interested in American history, one of the most popular car trips is the one to Plymouth Rock.
By taking this trip you can also catch a glimpse of the past by visiting Plimoth Plantation, where the English settlers established the original settlement of the Plymouth Colony.
The all-important Plymouth Rock, where European contact was first established, is just one more important landmark located in the area.
The Mayflower
A replica of the Mayflower ship, the Mayflower II, can also be found at this location. This is a six-hour car trip from the city of Boston, but it is well worth it. With us you can rent a car with all the comfort in order to have a great trip.

America's Stonehenge
Some people don't know that the United States has its own version of Stonehenge. The bonus is that it's only 40-minutes away from Boston.
Thanks to the branch located right in the airport, cheap car rentals are very easy to come by in Boston Airport.
Explore Boston in a Budget rental car
Located in the historic East Boston area, Boston Airport is close to several of the most interesting landmarks in all of Boston.
Since Boston is one of the most historic cities in the United States, this is certainly saying a lot. Read on to find out more about Boston and its area.
If you are interested in sampling the cuisine of the city, you're in luck; there are hundreds of restaurants to choose from.
These restaurants serve a variety of cuisines, including American, Italian and Chinese. With a thriving art scene as well, exploring Boston is to discover some American culture.
No matter which of these aspects of the city you choose to investigate, we can help you with our service to plan the best trip to Boston.
There are many different rental cars to choose from, so whether you're looking for a sporty number or a family vehicle, we can meet your requirements.
Important monuments, including the 11 metre high statue of the Madonna, which is a replica of the one found at the Don Orione Centre in Rome, are easily visited if you rent a car. If you visit Boston in high season, then you can take a trip to Constitution Beach, which is one of the most popular public beaches in the city.
No less than six community gardens can be found throughout the East Boston area, and a trip to the city provides the chance to see the fruits of various gardeners' labours. You can reach each of these gardens easily with the help of our service. For American history buffs, you can see where the Kennedy family lived on Meridian Street.
Another important piece of Boston's history is the Suffolk Downs racetrack, which was built in 1935. Since that time the racetrack has played host to several popular events, including the Beatles performing there in 1966.
Despite the fact that Boston Airport is located close to these attractions, you still need a car to get around if you want to make the most of your trip. This is where the variety and affordability of Budget comes in.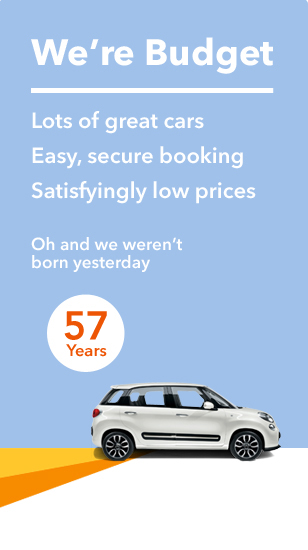 Other car hire locations