Cheap Car Hire at New York JFK Airport (JFK)
Visit New York with Budget Car Hire. Our airport location provides quality hire cars and friendly service at a great value price.
Let's go. Enter your rental dates in the form on the right to get a quote.
Car keys ready? We have put together some great suggestions below to ensure you get the most of your car hire.
Rent a car at New York Airport
JFK Airport
Building 305 Federal Circle
New York
11430
Tel: 718-656-1890
Opening hours
sunday:

05:30 - 23:30 Hrs


monday:

05:30 - 23:30 Hrs


tuesday:

05:30 - 23:30 Hrs


wednesday:

05:30 - 23:30 Hrs


thursday:

05:30 - 23:30 Hrs


friday:

05:30 - 23:30 Hrs


saturday:

05:30 - 23:30 Hrs

Budget Rent-A-Car at New York JFK Airport
View our convenient Budget car hire location on the map below.
Explore New York with Budget Car Hire
Car hire in and around New York
John F. Kennedy Airport (JFK), located in the borough of Queens, New York City, 12 miles from Manhattan, is the 6th busiest airport in the US. JFK is the ideal starting block for any holiday in New York or any of the neighbouring New England states.
By renting a car, travellers can enjoy more independence without relying on airport transfers, taxis or public transport. If you are travelling with small children or with older relatives who may find it less stressful to travel at their own pace, it is the ideal choice.
New York City itself has many famous attractions including the Statue of Liberty, Times Square, the famous 5th Avenue, the Trump Tower, Ellis Island and so much more.
Alternatively, New York State is home to a completely different way of life while still being close to the sparkle and glitz that is NYC. Budget Car Rentals, located at JFK Airport, is one of the most tried and tested economical car rental agents around.
Budget deals are available all year round and your car of choice can be pre-ordered before you arrive, ensuring that your car of choice will be waiting for you at the airport.
Budget offers its customers a full range of vehicles from family hatchbacks to sports cars to station wagons and trucks. If you require additional features such as a child booster seat or sat nav, then simply make your request at the time of booking.
Taking advantage of our economic deals allows the New York visitor to branch out and visit other locations, such as New England, Massachusetts and Philadelphia to name a few examples.
From JFK Airport it is only a 2 and half hours' drive to the Catskill Mountains, home of America's highest and longest zip slide at Hunter Mountain. Especially beautiful in spring yet close to the bustle of New York City itself, the wonderful Catskills provide a peaceful contrast to city life and offer a range of walking, hiking and cycling activities.
Driving is the most inexpensive way to reach this and other idyllic attractions close to the heart of the city, so our car hire service makes it easy for travelers to find their way around the surrounding New York states.
If you fancy a road trip, a mere six hour drive north will take you to the beautiful green state of Vermont, location of the famous Woodstock and home of maple syrup. Furthermore, the capital Montpelier is the only state capital of the USA without a McDonalds!
When in Vermont the visitor must visit the famous Green Mountain National Forest where hiking, fishing, picnicking, camping, and canoeing is the order of the day. A four-hour drive to the north-east takes you to the state of Massachusetts and its capital city of Boston.
Here you can see the home of Paul Revere, the US champion against the British during the lead up to the famed Boston Tea Party. There is also the fantastic Skywalk Observatory and the completely unique Freedom Trail.
This is a wonderfully inexpensive way to see Boston's sights at your own pace, the only things required are a camera and a pair of really comfortable shoes or trainers.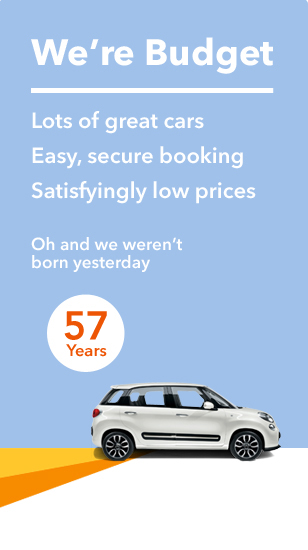 Other car hire locations