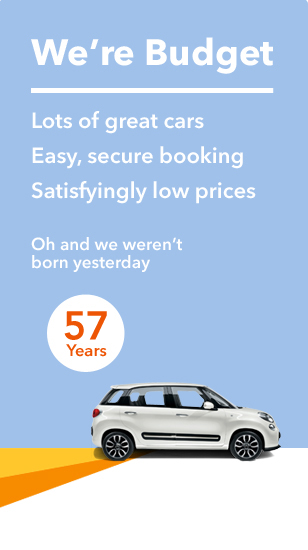 Other car hire locations
Car hire Leeds Bradford Airport
Need a fast, reliable car hire service at Leeds Bradford Airport? Rent with Budget, we provide quality hire cars at a great value price.
Rent a car at Leeds Bradford Airport
Leeds Bradford Airport
Leeds Bradford Airport
Leeds
LS19 7TZ
Tel: 01132 508808
Opening hours
sunday:

10:00 - 18:00 Hrs


monday:

08:00 - 20:00 Hrs


tuesday:

08:00 - 16:00 Hrs


wednesday:

08:00 - 16:00 Hrs


thursday:

08:00 - 16:00 Hrs


friday:

08:00 - 20:00 Hrs


saturday:

08:00 - 16:00 Hrs

Explore Yorkshire with Budget Car Hire
Car hire in Leeds and Bradford
Leeds occupies a very central position in the Northern part of England. The coastal areas are approximately equally distant from either west or east side of the city, so expect to be able to make excursions to anywhere in the north with relative ease.
A hire car makes it even easier to reach these destinations with ease: in the morning, you could be admiring the Leeds Museum exhibits, and in the afternoon, riding the roller coasters at Blackpool.
Other notable cities that are fairly close to Leeds include Manchester, with its great nightlife and music scene, Newcastle, with its historic features, and of course York, with the railway museum and assortment of excellent shopping opportunities in the central areas, as well as rich historical relics from the ancient Roman occupation period.
All of these locations may be reached for easy day trips through motorways such as the M62 and the M1, which also leads to other major areas of the UK such as London.
By using our car hire service, you're making sure that the many attractions and historical sites of northern England can be accessed with unparalleled freedom. When travelling during winter months, it can get cold in the North, but don't worry: all Budget cars are equipped with up to date heating and air conditioning to ensure your comfort.
The city of Leeds is in the central northern part of England, and therefore does not have any coastline. It is at the heart of West Yorkshire, being a major cultural and economic centre for the county.
Leeds is the largest town or city in the West Yorkshire area by population, standing at over 1.5 million, and if you take into account the Leeds-Bradford area, this figure rises to well over 3 million – comparable to other major cities in the UK.
The city also has its own local airport, in the form of Leeds Bradford International Airport, so if you're flying there and are planning to drive around town, you can find our office and benefit from our cheap car rental offers. Of course, because of Leeds' large size, it makes driving a very desirable mode of transportation as it helps to cut down on travel time between different parts of the city.
There are plenty of interesting attractions for visitors to take note of, as this city has a very long history tracing back well over one thousand years to the 5th century, when it was originally called "Loidis". Since then, the town has grown from a fairly insignificant settlement to the large city and metropolitan borough that it has become today.
There are plenty of sights testifying to this dramatic growth and development dotted throughout the city and in the museums. One very prominent, though more recent, attraction in Leeds is the Corn Exchange. Many English towns and cities featured large corn exchanges where the produce of agriculture would be traded in large quantities.
This one, dating from 1864, is a particularly pleasing example, thanks to its circular layout and grand design that is evocative of classical architecture mixed with period Victorian styling.