Cheap Car Hire at Newcastle Airport (NCL)
Book your Budget Hire Car from Budget easily, with the booking panel on the right.
Rent a car at Newcastle Airport
Newcastle Airport
Newcastle Airport
Newcastle
NE13 8BZ
Tel: 03445444663
Opening hours
sunday:

08:00 - 22:00 Hrs


monday:

07:30 - 22:30 Hrs


tuesday:

07:30 - 22:30 Hrs


wednesday:

07:30 - 22:30 Hrs


thursday:

07:30 - 22:30 Hrs


friday:

07:30 - 22:30 Hrs


saturday:

08:00 - 16:00 Hrs

Other Budget locations nearby
Budget Rent-A-Car at Newcastle Airport
View our convenient Budget car hire location on the map below.
Explore Newcastle with Budget Car Hire
Newcastle
Visitors to Newcastle will be met with an onslaught to the visual senses. From the historical architecture to the modern day contributions, there is a captivating sight at every turn.
Newcastle is by far becoming a leading light with all things contemporary not least at the Baltic Centre.
This contemporary arts centre stages exhibitions from upcoming artists that you would do well to approach with an open mind. Lose yourself in the visual imagery from the likes of Cornelia Parker or John Cage - just two names to watch out for in the future.
Of course, to truly appreciate all Newcastle has to offer, then begin your trip with ease by booking online a Budget car hire vehicle available from their branch at Newcastle Airport.
The peace of mind that all is secured before you arrive is enhanced by the way you can step off the plane and be away without so much as a queue for a taxi or bus.
Like any city worth its salt, Newcastle embraces all stages of its own history with nods to the past in the form of monuments and architectural treasures you can find in history books, and stunningly modern attractions such as the Nocturne, an ever-changing colour and light work on the QEII Metro Bridge over the river Tyne.
If all of the culture, sights and attractions still aren't enough, Newcastle is also home to Europe's largest shopping and leisure centre, Metrocentre, where there is an eclectic ensemble of more than 330 stores stocked with bargains all well as designer collections, should you wish to use your car hire to shop until you drop!
Car rental Newcastle Airport
Car rental at Newcastle Airport is simple with Budget, and you will be perfectly placed to explore and enjoy the vibrant city of Newcastle.
There really is something for everyone in this Geordie destination which boasts year-round, world-class events including concerts and carnivals, performances and festivals as well as the best nightlife in the north of the country with a wealth of excellent bars, clubs and restaurants.
Explore this city's world-class arts facilities with car rental from Newcastle Airport or simply soak up the zest for life exuded by the city on a night out on the town.
Don't forget to add a second driver to the car hire package from Budget if you think that you may like to make someone else designated driver for an evening!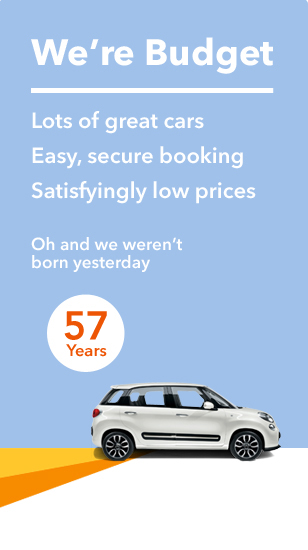 Other car hire locations