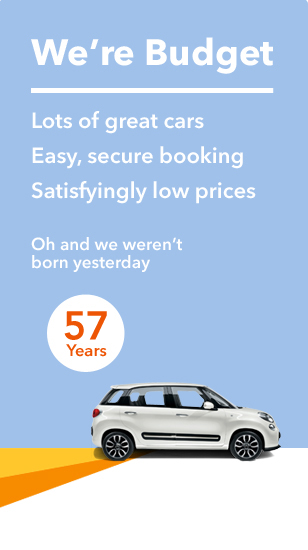 Other car hire locations
Car hire Manchester Airport
Need a fast, reliable car hire service at Manchester Airport? Rent with Budget, we provide quality cars and friendly service at a great price.
Rent a car at Manchester Airport
Manchester Airport
Manchester Airport
Manchester
M22 5WH
Tel: 03445446002
Opening hours
sunday:

06:00 - 23:00 Hrs


monday:

06:00 - 23:00 Hrs


tuesday:

06:00 - 23:00 Hrs


wednesday:

06:00 - 23:00 Hrs


thursday:

06:00 - 23:00 Hrs


friday:

06:00 - 23:00 Hrs


saturday:

06:00 - 23:00 Hrs

Other Budget locations nearby
Budget Rent-A-Car at Manchester Airport
View our convenient Budget car hire location on the map below.
Explore Manchester with Budget Car Hire
Experience all that Manchester offers
Manchester Airport is the ideal location to fly into for anyone looking to explore the entire Northwest region. Awash with history, culture, great shopping and nightlife, the area really does have something to suit the tastes of everyone, no matter what their age.
Take a trip to the award-winning Imperial War Museum and discover why this is one of the most celebrated museums in England. Tourists are also able to experience the true legacy of war and the effect it has had on the region before visiting some of the sites that were affected by the blitz during the Second World War.
Step back in time by exploring the Stockport Air Raid Shelters to get a feel for what it must have been like for people during the dark days of the early 1940s.
Experience the history of the Industrial Revolution, which helped make Manchester the powerhouse that it is today, with restored factories and mills proving to be a huge tourist draw or marvel at the more modern architecture, which abounds throughout this great city. UMIST and The Daily Express Building are both impressive and easy to get to by driving.
Book a car rental in advance of your arrival and be ready to head off to Old Trafford or the Etihad Stadium and marvel at two of the finest examples of football stadiums to be seen anywhere in the world. Explore the history of Manchester United, one of the world's most famous and successful football clubs: the stadium tour is well worth the money, especially for its historical significance - even if your allegiances lie elsewhere.
Manchester has some great areas to explore, many of which can be enjoyed from the comfort of your car, such as the Castlefield district, which is situated on the western edge of the city; the Northern Quarter, with its eclectic mix of shops and cafes and The Village and Canal Street, one of the most popular gay areas in Europe.
Driving in Manchester
Wherever you choose to go, in and around Manchester, you are bound to be entertained, wowed and impressed: some of the finest landscapes in England are just waiting for you to drive through.
The Peak District National Park is within a 30-minute drive of the airport and the road infrastructure that connects all the major towns and cities in this part of the world are second to none.
Family friendly castles and stately homes abound, such as Tatton Park, which is one of England's most complete estates await your visit, while the serenity to be found, should you take the time to drive to The Monastery of St. Francis, is not too far from the city centre and also well worth a visit. Travelling between these attractions is easy and affordable with our cheap car hire offers.
Parks, public gardens and country estates are all available and if you're driving you will be able to take everything needed for a relaxing picnic surrounded by some of the most beautiful scenery in the region.
Just 20 minutes from Manchester city centre lies the 'village' of Didsbury, which is renowned for being one of the hippest places in the area, with a great selection of fashionable boutiques, restaurants and nightlife.
Take in The Art of Tea on Barlow Moor Road for some great cakes and lunches, as well as a fine selection of teas or simply marvel at the leafy avenues after parking nearby.
It should be noted that parking in Manchester should never be a problem and all of the attractions in the region are easily accessible.
Start planning your visit now: get your holiday or business trip underway by taking advantage of one of our cheap car hire offers.
Budget rent a car Manchester Airport
Budget is located in the Car Hire Village which is accessible from all Terminals via shuttle. Please head to shuttle bus pick up points to be dropped off at the Car Rental Village free of charge,