Cheap Car Hire at Toulouse-Blagnac Airport (TLS)
Enjoy your time in Toulouse with Budget Car Hire. Our airport location provides quality hire cars and friendly service at a great value price.
Let's go. Enter your rental dates in the form on the right to get a quote.
Car keys ready? We have put together some great suggestions below to ensure you get the most of your car hire.
Rent a car at Toulouse Airport
Blagnac Airport
Toulouse Blagnac Airport
Toulouse
31700
Tel: 0821230499
Opening hours
sunday:

08:00 - 23:59 Hrs


monday:

06:30 - 23:59 Hrs


tuesday:

06:30 - 23:59 Hrs


wednesday:

06:30 - 23:59 Hrs


thursday:

06:30 - 23:59 Hrs


friday:

06:30 - 23:59 Hrs


saturday:

08:00 - 22:00 Hrs

Budget Rent-A-Car at Toulouse Blagnac Airport
View our convenient Budget car hire location on the map below.
Explore Toulouse with Budget Car Hire
In and around Toulouse
There is a lot to see around 'The Pink City'. The Toulouse experience begins as soon as you have picked up your hire car. This city is the fourth largest in France, so the périphérique de Toulouse, or ring road, can seem a little daunting, especially if you are straight off the plane, but it is worth choosing one of our cars at Blagnac Airport.
A car will allow you to explore as much as possible inside and outside this beautiful university city. Toulouse, located in the southwest of France, is an extremely old city whilst also being home to the cutting edge European aviation industry.
Airbus is one of the major employers here, and it is not uncommon to see the latest Airbus prototypes taking to the air on trial runs over the city. Central Toulouse is a bustling cosmopolitan area and the Place Capitol is at the epicentre.
The Capitol building is the home of the city council, but with its elegant lines it's far removed from your average city hall. The square in which the Capitol is located is a wide-open space surrounded by cafés, where students, visitors and Toulouse residents congregate to sip apéritifs or coffee outdoors.
There is an excellent car park under the Place Capitol and having chosen our services, you may drive into the centre, park and walk to enjoy central Toulouse by foot. When you organise a hire car with us, you won't need to queue for a bus or metro train. The city is called 'The Pink City' because of the attractive rose-hued buildings constructed from local red brick. This mellow pink shade is reflected in the quaint streets and wide boulevards.
The 'City of Light' is another name for Toulouse, owing to the wealth of attractive illuminations, which give the city a magical charm after dark. When darkness falls, Toulouse wakes up. There are endless attractions in this cultural city, famed for its renowned Capitol Orchestra, and the Capitol Theatre has an impressive programme of ballet and opera.
If classical music is not your scene, there are plenty of jazz clubs, live music bars and nightclubs. Toulouse is a city to view on foot as the narrow back streets are not great places to take a car, but rental cars are useful if you wish to see more of the Midi-Pyrénées after you have seen all that Toulouse has to offer.
When you have had your fill of high-fashion shopping and the high-octane nightlife, there are wonderful green parks to relax. There are plenty of family-friendly trips close to Toulouse and with your cheap car rental you can make the most of these opportunities to enjoy a day out with the kids.
The Airbus 380 is the super plane of the 21st century and the company is happy to show off the aeroplane's ground-breaking technology. Factory tours are a popular choice for families with teenagers. Situated adjacent to Blagnac Airport, the Airbus 380 is not that easy to access by car, less so by public transport.
The Cité de l'espace on the outskirts of the city is both educational and exciting. If the kids are bored with looking at old buildings and shops, spend the day in space! This informative centre offers entertainment for all the family. Another destination in the region that is easily reached by car is the renovated mediaeval city of Carcassonne.
It is famous due to Dan Brown's novel, The Da Vinci Code, this tourist site is very crowded in the summer months, but kids love its ramparts, cobbled streets and Crusader souvenirs. When you have many attractions to see a hire car is the sensible way to get the very best from your holiday.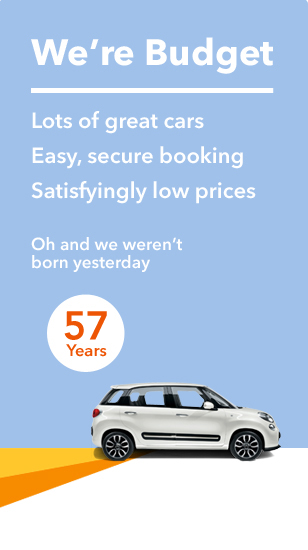 Other car hire locations