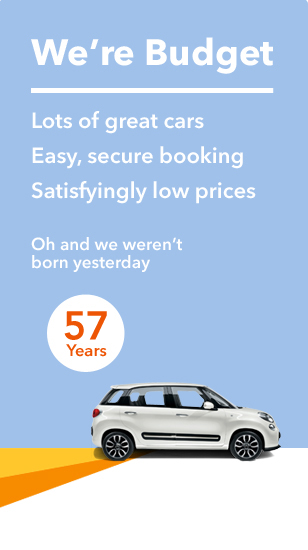 Other car hire locations
Car hire Knock Airport
Visit Knock with Budget Car Hire, our airport location provides quality hire cars and friendly service at great value prices.
Let's go. We've put together some great ideas below to help you get the most out of your car hire in Knock.
Rent a car at Knock Airport
Knock Airport
Knock Ireland West Airport
Knock
F12 R3W7
Tel: +353(0)949367577
Opening hours
sunday:

09:00 - 23:00 Hrs


monday:

09:00 - 22:00 Hrs


tuesday:

09:00 - 19:00 Hrs


wednesday:

09:00 - 19:00 Hrs


thursday:

09:00 - 19:00 Hrs


friday:

09:00 - 19:00 Hrs


saturday:

09:00 - 19:00 Hrs

Budget Rent-A-Car at Knock Airport
View our convenient Budget car hire location on the map below.
Learn more about Knock
Car hire in Knock
Knock is a small sized town that is located in the Western region of Ireland, in the area known as County Mayo. It is a popular destination for tourists and locals alike thanks to its religious background.
It is claimed that important Christian figures such as the Virgin Mary, John the Evangelist, and St John, all appeared together in a vision in the year 1879.
As a result, the town is the home of a significant Catholic shrine (a Marian Shrine) that is an active place of pilgrimage for modern worshippers well over one million pilgrims, on average, find their way over to Knock Shrine every year.
A rental car makes it possible for tourists to visit the Knock shrine without having to rely on big tour groups, a perhaps more flexible and enjoyable way to visit. The shrine is in a major building that is well sign-posted, and should be easy to spot when driving past it.
If you're not of a religious disposition or merely prefer to explore other pursuits, Knock is also a good starting base for visiting surrounding areas. With all of beautiful County Mayo on your doorstep, our car rental service can open the door to a world of delightful countryside and historic villages.
If you prefer to stay local, thanks to its status as a shrine town, Knock is well equipped to handle large numbers of tourists, so organising for a stay will not be an issue.For those who like camping, you will be pleased to know that Knock is the home of a very high quality camping and caravanning park area that has plenty of space for many tourists to camp at once.
Bear in mind that should you wish to take advantage of the camping ground it will be necessary to enquire in advance to obtain permission to use the grounds. The camping grounds are well known as a reputable location the AA has rated this ground as a 4 star area, and the Alan Rogers Good Camps Guide has also recommended it.

There are also numerous local attractions that can easily be reached either on foot or driving. These include walking, fishing, golfing, and riding. Knock also has many shops, perhaps more than would be expected thanks to the influx of pilgrims every year. The wealth of activities and shopping opportunities in Knock as well as the extensive surrounding areas of countryside are all good reasons to visit it.

The weather in Knock is somewhat variable due to its west Ireland location, where it is more under the influence of oceanic weather than inland locations. However, all cars supplied by Budget are well equipped with high quality heating and air conditioning, ensuring a warm and dry driving experience.