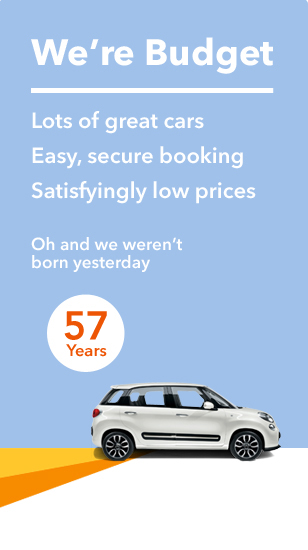 Other car hire locations
Car hire Alicante Airport
Alicante–Elche Airport, formerly El Altet Airport, is one of the busiest airports in Spain.
Our Budget car rental station is conveniently located in the arrivals area of the terminal building so as soon as you touch down you can drive off.
Rent a Car at Alicante–Elche Airport
Alicante–Elche Airport
Aeropuerto De Alicante
Alicante
03071
Tel: 902 109 808
Opening hours
sunday:

08:00 - 22:00 Hrs


monday:

08:00 - 22:00 Hrs


tuesday:

08:00 - 22:00 Hrs


wednesday:

08:00 - 22:00 Hrs


thursday:

08:00 - 22:00 Hrs


friday:

08:00 - 22:00 Hrs


saturday:

08:00 - 22:00 Hrs

Explore Alicante with Budget Car Hire
Hire a car with Budget to explore Benidorm
Costa Blanca's Alicante Airport is a starting point for many travellers around Spain's coast. With cheap car rental, you can travel to places such as Benidorm, Denia or Calpe.
These three locations are very popular with tourists. Benidorm is 45 kilometres from Alicante and cheap car rentals are the best way to get there. It is south of Altea and a main attraction of Costa Blanca
Benidorm may traditionally be known for its skyscrapers, but it also boasts great beaches and a high-energy nightlife. It is a place for young married couples or college students on holiday.

Here in Benidorm there's both mountains and water to enjoy, with the 1558 meter peaks rising behind you if you stand on the beach to look out at the magnificent ocean. Depending on the time of year, the north winds can be a little cool but in summer Benidorm has a party atmosphere with 1000 restaurants and more than 30 discos.

Hotels are not scarce here, even if you want to stay for just one night before taking your car back to Alicante. Denia is farther from Alicante by about 85 kilometres. It is to the north-east of Alicante on the Costa Blanca. Denia is certainly famous as a beautiful and attractive holiday town and, although it is relatively small, it is a gateway to Ibiza. If you want to, it is possible to take a ferry with your hire car to Ibiza and come back all in the same day.

When you rent a car you are able to tour around Denia to locations such as the Castillo. This castle was built in the 11th and 12th centuries and has sea views. It contains the Palau del Governador and a museum for tourists who enjoy a little history and culture. Denia is also known for its shopping on the Calle de Marques de Campo. On the main road it is possible to find a hotel for a night or two, and also bars and restaurants after a long day shopping.

Whether you stay around Alicante Airport or visit some of the countryside in Costa Blanca, there is plenty to do. With our service you can ensure that you have the flexibility to explore all of the wonders the area has to offer, from the sandy beaches to the old architecture of cathedrals and castles. Car rental makes it possible to see what you wish, when you wish.
Hiring rental cars in Alicante makes it easy for you to see the coastal city attractions and all its beautiful views. Our cheap car hire allows you to travel along the boulevards lined with palm trees and reach Alicante's shopping areas, or access a well known location such as Costa Blanca.
Alicante is known for its sandy beaches that constantly bring in tourists each year. The area is also known for its superb weather and outlying cities, such as those on the island of Tabarca. Our service you will be able to visit Alicante harbour or travel to the long alleys for a relaxing walk.
Explore Alicante in a Budget rental car
Alicante is a city with historical buildings throughout, despite some of the modern structures you see upon landing at the Airport. The best way of seeing these architectural gems is to get around the city with a car from Budget.
In the event that you want to see a little Spanish architecture from past centuries, cathedrals and churches are also hidden throughout the modern buildings making exploration a joy.
When you are ready, you can stop by the hotel to relax at the sandy beach.
If your hotel is a few miles away from the beach, a hire car will come in handy to visit the harbour and beaches that go all the way to San Juan.
You could spend an entire day at the beach getting a little sun, swimming, and walking around the various shops and restaurants.