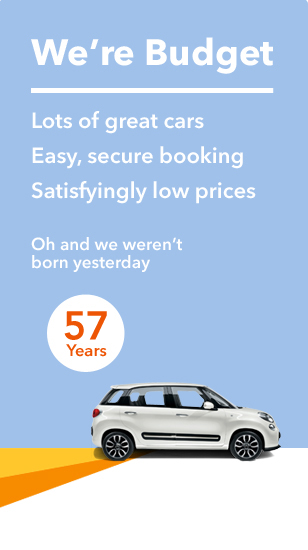 Other car hire locations
Find Cheap car hire at Alicante Airport (ALC)
Our low-cost car hire at Alicante Airport provides quality hire cars and friendly service at a great value price. Whether you plan to visit the city of Alicante, relax on the golden sands of the Costa Blanca or soak up the vibrant nightlife in Benidorm, with a Budget car rental you'll save money and have the flexibility to explore everything this region has to offer.
Simply enter your dates in the booking form and choose from a wide range of quality cars, from compact 3-doors to spacious SUVs. The Budget car rental counter at Alicante Airport is conveniently located in the arrivals area, inside the terminal building, so as soon as you touch down you can drive off.
Rent a Car at Alicante–Elche Airport
Alicante–Elche Airport
Aeropuerto De Alicante
Alicante
03071
Tel: 902 109 808
Opening hours
sunday:

07:00 - 23:59 Hrs


monday:

07:00 - 23:59 Hrs


tuesday:

07:00 - 23:59 Hrs


wednesday:

07:00 - 23:59 Hrs


thursday:

07:00 - 23:59 Hrs


friday:

07:00 - 23:59 Hrs


saturday:

07:00 - 23:59 Hrs

Travel further with economy car hire from Alicante Airport
Explore the Costa Blanca with a rental car from Alicante Airport
Costa Blanca's Alicante Airport is a starting point for many travellers around Spain's coast. With cheap car rental from Alicante Airport, you can travel to fantastic holiday destinations including Benidorm, Denia or Calpe.
These three locations are very popular with tourists. Benidorm is 45 kilometres from Alicante and a main attraction on the Costa Blanca with great beaches and a high-energy nightlife. In summer Benidorm has a party atmosphere and tons of restaurants, bars and nightclubs, so whether you plan to spend a night here or a two-week holiday, you'll have no chance to get bored.
Denia is about 85 kilometres north of Alicante on the Costa Blanca. This beautiful town is worth visiting for its charming cobbled streets, 11th century castillo, sea views and great restaurants. Denia is also famous for being the gateway to Ibiza and it is possible to take a ferry with your hire car over to Ibiza.
Calpe, 35 km south of Denia boasts some of the best beaches of the region. Don't miss the town's old quarter with its picture-perfect streets and colourful buildings, or a hike up the Penyal d'Ifac Natural Park – a large limestone massif with killer views of the Balearic Islands.
Hire a car at Alicante Airport and explore the city
Alicante is a city with historical buildings throughout, despite some of the modern structures you see upon landing at the airport. The best way of seeing these architectural gems is to get around the city with a car from Budget. Hiring an economy car at Alicante Airport makes it easy for you to see this coastal city's attractions, its beautiful sea views, palm tree-lined boulevards and buzzing shopping areas.
In the event that you want to see a little Spanish architecture from past centuries, Alicante's cathedrals and churches are also speckled throughout the city making exploration a joy. When you want to take a break, you can hop in your car and head to the best beaches on the Costa Brava to relax. If your hotel is a few miles away from the beach, a hire car will come in handy to visit the harbour and beaches that go all the way to San Juan.
With its sandy beaches, great shopping, buzzing tapas restaurants and quaint old town, it's no wonder Alicante is such a popular destination. Whether you stay around Alicante Airport or visit some of the countryside in the Costa Blanca, there is plenty to do. With Budget you can enjoy low-cost car hire from Alicante Airport and have the flexibility to explore all of the wonders the area has to offer.