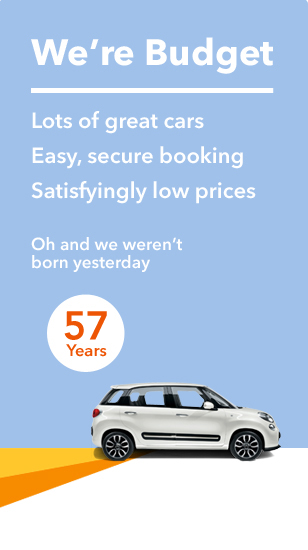 Other car hire locations
Car hire Inverness Airport
Enjoy your time in Inverness with Budget Car Hire. Our airport location provides quality hire cars and friendly service at a great value price.
Let's go. Enter your rental dates in the form on the right to get a quote.
Car keys ready? We have put together some great suggestions below to ensure you get the most of your car hire.
Rent a car at Inverness Airport
Inverness Airport
Terminal Building
Inverness
IV2 7JB
Tel: 03445446017
Opening hours
sunday:

Closed


monday:

10:00 - 14:00 Hrs


tuesday:

10:00 - 14:00 Hrs


wednesday:

10:00 - 14:00 Hrs


thursday:

10:00 - 14:00 Hrs


friday:

10:00 - 14:00 Hrs


saturday:

Closed

Other Budget locations nearby
Budget Rent-A-Car at Inverness Airport
View our convenient Budget car hire location on the map below.
Explore Inverness with Budget Car Hire
Car hire in Inverness and the Highlands
Inverness is located in Scotland's Highlands and is noted for its famous buildings, wide streets and generally relaxed atmosphere.
The town has a number of historic buildings of which the locals are justifiably proud. This includes Abertarff House which is the oldest building in Inverness dating back to 1593, Inverness Castle overlooking the city, St Andrew's Cathedral and many more.
Inverness is home to both the River Ness and the Caledonian Canal. With so much to see, a hire car is the best option for travellers.Drive a little to the east and visit the historic Culloden Battlefield and Fort George.
For lovers of ancient history, a stop at Clava Cairns is a must. These are three burial cairns which date back as far as 2000 BC. By taking advantage of cheap car rentals, you can drive west and pay a visit to the Iron Age hill fort of Craig Phadrig.
A good deal more laid back that the busy cities of Edinburgh and Glasgow; visitors will find driving in Inverness a relatively relaxing and enjoyable experience.
Going by car is the best way to see as much as possible of this stunning area of the Highlands. Once visitors have experienced this unique location, they will want to return again and again.
Cheap car hire is the order of the day and Inverness offers both long and short-term cheap car rental suitable for every budget. Car rental is the optimum way to travel at your own pace, especially if you are travelling with the family.
With car rental cheap from Budget in Inverness you can have lots of fun planning your trip long before you actually get there. Inverness is one of the oldest towns in Scotland (dating back to around 585AD) and as such abounds with churches, castles, mountains and natural history. The centre of Inverness is not large and can be easily accessed, which makes driving through the area a relaxing experience.
The Inverness Historical Trail leads visitors through both the Old and New Town with attractions, restaurants, bars and eateries on offer. The Victorian Market houses local traders and producers and is fun to go for a wander through. Built in 1870, the Victorian Market is indoors and has distinctive Corinthian arches and medieval animal carvings.
Because car hire cheap deals are available, take advantage and be your own tour guide. Visit as many places as you want and stay as long as you please. Rent a car either at the time of booking or once you arrive, however remember to take with you both parts of your UK driving license.
A UK hire car can be as luxurious or as economical as you like and the wide-open country roads are a joy to drive. Rental cars offer true independence, are time saving and great for those family holidays. Don't forget to take a look at the latest offers page to save more money with Budget.
Budget car hire services are in an excellent location in the city of Inverness. Inverness has a small compact centre that's easy to walk around. Budget Inverness is located at the Inverness Airport terminal.
Perhaps the most famous loch in Scotland and situated near Inverness is Loch Ness, home of the infamous but rarely seen Loch Ness Monster.
The Loch Ness Visitor's Centre has all the information you need to know about the famous Nessie. Right beside the visitor's Centre is Scotland's commemorative centre to its famous son, William Wallace.
Inverness has so many tourist attractions and an abundance of ancient castles including Urquhart and Brodie Castles. There is also the Moray Firth, which has a beautiful school of dolphins.
Inverness has much to interest lovers of history and keen shoppers alike. Of course there is also the range of outdoor activities and the stunning Scottish scenery, which make it ideal for families and children of all ages.