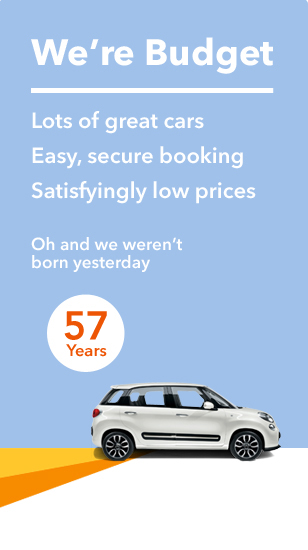 Car hire Glasgow Airport
Enjoy your time in Glasgow with Budget Car Hire. Our airport location provides quality hire cars and friendly service at a great value price.
Need some inspiration? We have some great suggestions below to help you get the most of your Glasgow car hire.
Rent a car at Glasgow Airport
Glasgow Airport
Glasgow International Airport
Glasgow
PA3 2ST
Tel: 03445444604
Opening hours
sunday:

07:00 - 22:30 Hrs


monday:

07:00 - 22:30 Hrs


tuesday:

07:00 - 22:30 Hrs


wednesday:

07:00 - 22:30 Hrs


thursday:

07:00 - 22:30 Hrs


friday:

07:00 - 22:30 Hrs


saturday:

07:00 - 22:30 Hrs

Other Budget locations nearby
Budget Rent-A-Car at Glasgow Airport
View our convenient Budget car hire location on the map below.
Learn more about Glasgow
Explore Glasgow and Scotland with Budget
Glasgow is on the west coast of Scotland and has a rich industrial heritage and a working-class background of which the locals are fiercely proud.
Unlike the 'posh' folk of Edinburgh, one hour's drive to the west, Glaswegians have a thick Scottish accent. The two cities have a strong rivalry – Edinburgh may be the country's capital city, but Glasgow is its economic heart.
With Edinburgh to the west, the highlands to the north and the borders to the south, rental cars allow visitors to spread their wings and explore all the rich diversity that Scotland has to offer.
Explore Glasgow, from the Mackintosh-styled Willow Tearooms to Clydebuilt, a museum exploring the history of the river and its relevance to Glasgow's heritage and modern day image.
A short drive to the west brings visitors to Edinburgh, a city rich with culture and beautiful historical architecture. Edinburgh is rife with museums and fascinating tours – ghost tours ideal for family holidays, which will send a shiver down your spine, historical walks through the vaults under the city and a look into Mary King's Close – while if you're looking for live music and a wild nightlife scene, Glasgow has made a name for itself as one of the best places in the UK.

Rent a car and explore the depths of Scotland. The highlands are eerily beautiful with mist-covered mountains, tumbling waterfalls and a rich and diverse history. Loch Ness is Britain's deepest lake, so who knows what could dwell in its depths? Get a glimpse of Nessie, the Loch Ness monster, and explore Scotland's mythology in Inverness. Inverness, the capital of the Scottish highlands, is situated on the northern-most tip of Loch Ness and is filled with tourists every summer who are intent on finding proof of the existence of the Loch Ness monster. A cruise on the Moray Firth will allow visitors a glimpse of the bottlenose dolphins that make it their home, while the smaller villages offer a glimpse into the life of the locals.

The highlands are ideal for any outdoor enthusiasts, with adventure sports, hiking, kayaking, cycling and skiing all available for visitors to try out. There are three top ski resorts in the highlands; Glencoe, Nevis
Car Hire Cheap in Glasgow Airport
Pick up your hire car in the Domestic Arrivals hall of Glasgow airport and get ready to explore every inch of Scotland.
Some Scottish specialities that cannot be missed on a trip include haggis and some of the famous Scottish whiskey, but a drive up to Aberdeen will ensure the tastiest beef you have ever eaten, with the Aberdeen Angus.
Aberdeen has thrived in recent years with the explosion of the North Sea oil industry. An exploration from Glasgow to Aberdeen is easy with our car hire service.
If you fancy a bit of wildlife watching, there are birds and fauna galore in the highlands, with frolicking otters and soaring eagles, while in the sea to the north are whales and dolphins. The very north of Scotland sees hundreds of puffins; a sight that you will see nowhere else. Crumbling ruins and rose-covered castles create a beautiful feeling to a romantic weekend, while history buffs will love looking into the history and mythology surrounding them.