Cheap Car Hire at Palma Airport, Majorca (PMI)
Enjoy your time in Mallorca with a cheap car rental from Palma de Mallorca Airport. Our airport location provides great offers, quality hire cars and friendly service at a great value price.
Car keys ready? We have some great suggestions below to help you make the most of your Mallorca car hire.
Rent a car at Palma Airport
Palma de Mallorca
Palma Mallrca Son Sant Joan Airport
Palma De Mallorca
07611
Tel: 902 110 261
Opening hours
sunday:

08:00 - 19:00 Hrs


monday:

07:30 - 21:00 Hrs


tuesday:

07:30 - 21:00 Hrs


wednesday:

07:30 - 21:00 Hrs


thursday:

07:30 - 21:00 Hrs


friday:

07:30 - 21:00 Hrs


saturday:

08:00 - 19:00 Hrs

Other Budget locations nearby
Explore Mallorca with a cheap hire car from Palma Airport
Palma de Mallorca Airport car rental
Get the most out of your stay on this picturesque island with a hire car from Majorca Airport. The airport at Palma de Mallorca is one of the busiest in Spain, dealing with millions of passengers annually. It is a modern airport with good facilities aimed at enhancing your visit to Mallorca.
Being mobile during your visit allows you to see so much more of Mallorca and enables you to get a real flavour of the unique Mallorquín culture. Retain your independence and flexibility on holiday with Budget.
Choose from a range of vehicles at the airport, with something to suit everyone. Do you need a people carrier for transporting a large family? What about golf clubs or other sporting equipment to carry around? Perhaps it is just the two of you on a romantic break and all you need is something compact. Whatever your requirements are, with an airport location, our services are there for you. Remember, to keep prices low, it is often best to reserve your car in advance at peak holiday times.
Once your wheels are sorted out, you can sit back and decide what to explore on this island paradise. The north-west coast is very beautiful and a car trip to the Serra de Tramuntana mountain range will reward you with spectacular scenery. Whilst exploring the north-west of the island, you will drive through fragrant orange and lemon groves surrounding the pretty towns of Soller and Valldemossa, which are worth a visit.
Get to the geographical heart of Mallorca by visiting the town of Sineu. The best day for visiting is Wednesday when it stages a vast market. If more extensive retail therapy is required, Mallorca is especially good for leather goods, olive wood products, and pearls. The larger towns of Inca, located centrally, or Manacor to the east, offer interesting shopping opportunities.
Most visitors to Mallorca still want to sit on a sun-drenched sandy beach and this is where having a car rental puts you ahead of the competition. You will be able to range far and wide in your search for the perfect beach. Having over eighty beaches to choose from, and a coastline of over 500 kilometres, there is definitely a lot to explore in Mallorca.
The southern and eastern coasts are home to the most populous tourist areas and beaches, whilst the north offers quieter, more secluded choices. Whether you seek isolated and wild, or busy and buzzing, with a hire car at your disposal the perfect beach is never too far away.
Explore Majorca with car hire from Palma de Mallorca Airport
Palma de Mallorca is the capital city of the Balearic island of Mallorca which is situated off the east coast of mainland Spain. As the commercial and cultural hub of the island, there is plenty going on.
Having a population of just under half a million, Palma is home to half the people who live on this sunny island. Palma has a bay-side location in the south-west of the island and enjoys a long and rich history stretching back to the Bronze Age.
In more recent times, Palma and the island of Mallorca have become holiday destinations of choice for many northern Europeans seeking guaranteed sunshine and the relaxed pace of life.
Palma de Mallorca Airport lies eight kilometres east of the city of Palma and from here you can easily pick up a hire car to keep you mobile during your visit.
The city of Palma should not be dismissed as simply the place near to where your plane touches down. There is plenty to see and do here. A visit to the city of Palma should include the magnificent Cathedral, with its museum of religious artefacts, the ancient Banys Arabs public baths, and the contemporary art museum which houses exhibits by Spanish artists Picasso, Miró and Dalí. The city comes alive at night and the port area, known as Paseo Maritimo, is packed with nightclubs and discos to keep party animals happy.
Why book with Budget?
Special measures and deepcleaning sanitisation protocols protect our customers and provide a safe and flexible travel experience.
No need to worry if your plans change. With our flexible car hire you can amend or cancel your booking for free and receive a full refund.
Fast-track online check-in service
Save time with Budget contactless checkin service. Your vehicle will be ready and waiting for you so you can be on your way quickly and safely.
Hassle-free long-term rentals
Rent a car for as long as you need with our flexible and lowcost long-term car rentals.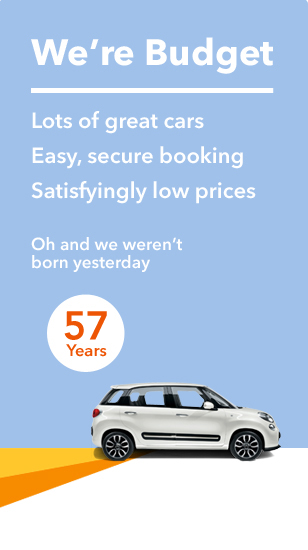 Other car hire locations