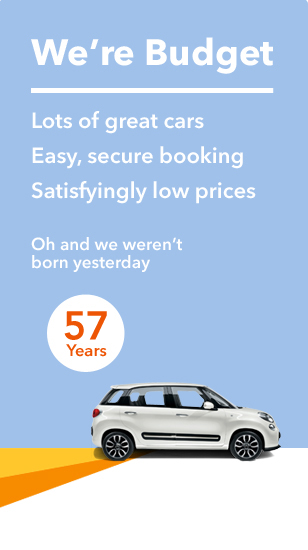 Car hire Turkey
Think about a country that has all the beauty of four seasons and think about travelling with your Budget rental car from sea to shining sea. An unforgettable holiday in the bluest coasts of Mediterranean and Aegean Sea, the historical fabric of the dreamy Ýstanbul, the immense gardens of the lush Black Sea and an unforgettable unique Eastern cuisine. Begin your day in Cesme; the wonderful coast of Ýzmir and then visit Mother Mary in Ephesus with your Budget rental car. In Antalya, the pearl of the Mediterranean, in order to enjoy the sun and the see stay in Kas, Kalkan, Kemer and Side. It's not a dream anymore to spend a peaceful day in the wonder of nature at Manavgat and Duden Falls! If you are interested in winter sports, we advise you to turn your route to Central Anatolia. In Kayseri, with its specific culture and rich architecture, go for skiing in Erciyes and when you're hungry, try its delicious mantý (meat pasty). In short when you are visiting Turkey, Budget is with you wherever you want to go.
Explore Turkey with Budget Car Hire
Car Rental Turkey
Budget Turkey combines the power of one of the biggest car hire brands with detailed local information, flexibility and the most suitable service. Budget, with its car hire locations across 128 countries, started to service Turkey in July 2007.
In rapidly growing car hire sector, Budget is combining its quality service with favorable pricing and customer service and thus it is on its way to become the leader. The Budget offices are in the airlines and thoroughfare to serve you the best car hire.
Budget invites you to have a holiday in Turkey, where you can experience all four seasons, many different cultures, delicious cuisine, colourful night life, every bit of art and an immense history. All with comfortable travel guarantee.
Turkey
It is possible to tour around historical and touristic places, everything that has to be seen in Turkey with your rental car from Budget.
You can visit Sumela Monastery in Trabzon and then you can experience the impressive nightlife in Istanbul. Budget Car Rental is designed to make sure that you have the control and to help you save your money.
We are at your service with all inclusive charges, upfront payment choices and multiple payment methods. In order to make sure that you are not worried, all the cars are checked for safety and are cleaned prior to rental. As we update our fleet regularly, you'll be driving the latest cars for best prices. Whatever you need for car hire in Turkey, we are at your service.