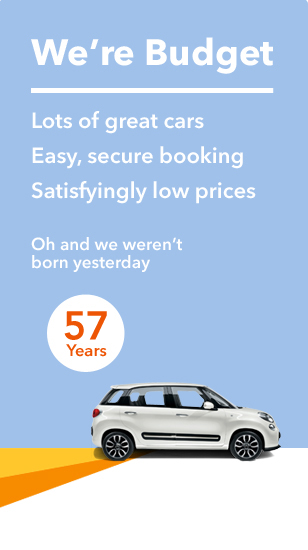 Other car hire locations
Car hire Manchester Piccadilly
Visit Manchester with Budget Car Hire, our Manchester Piccadilly location provides quality hire cars and friendly service at a great price.
Let's go. We've put together some great ideas below to help you get the most out of your car hire in vibrant Manchester.
Rent a car at Manchester Piccadilly Train Station
Manchester Piccadilly
28 Store Street
Manchester
M1 2WD
Tel: 03445449742
Opening hours
sunday:

09:00 - 15:00 Hrs


monday:

08:00 - 18:00 Hrs


tuesday:

08:00 - 18:00 Hrs


wednesday:

08:00 - 18:00 Hrs


thursday:

08:00 - 18:00 Hrs


friday:

08:00 - 19:00 Hrs


saturday:

08:00 - 15:00 Hrs

Other Budget locations nearby
Budget Rent-A-Car at Manchester Piccadilly
View our convenient Budget car hire location on the map below.
Explore Manchester with Budget Car Hire
Car hire in Manchester and beyond with Budget
Our office in Manchester Piccadilly is ideally located next to the railway station, which connects this part of the world directly with London, Birmingham and South Wales.
Book in advance and collect your hire car so that you do not have to waste any time when exploring the vast array of exciting attractions to be found in this part of the country.
Manchester football clubs and stadiums
Manchester is a centre for many things, but when most people are asked what they know about the city they tend to mention either football or music. The city is home to two of the world's biggest football clubs, Manchester United and Manchester City, which divide this great city into red and blue.
Many visitors drive to Old Trafford to take in the amazing sight that is Manchester United's home and experience just a taste of the history that makes this one of the most successful clubs in the world.
Then, just a short distance across the city, you will find the Etihad Stadium, home of Manchester United's fiercest rivals, Manchester City. Stadium tours are available at both grounds and the opportunity should not be missed, regardless of which team you support.
Manchester and its music
Manchester re-established itself on the world map as a hotbed of popular music with the success of bands like Oasis, Joy Division and the Stone Roses; but there is more to it than that.
With a multitude of venues including one of the largest in Europe in the MEN Arena and pubs and clubs all offering live music experiences, getting around them all should not be a problem thanks to your car.
Other things you should see
Manchester has much more than music and football to attract the millions of visitors it welcomes every year. The city and surrounding area has a rich and lengthy history spanning hundreds of years.
There is the Industrial Revolution, for example, which really sealed Manchester's place in the history books. Use your rental car to drive to the Stockport Air Raid Shelters and experience a taste of what it must have been like for the thousands of people cramped in there during the blitz or visit the Imperial War Museum, which is one of the finest museums in the country.
Not far outside the city centre you will find yourself in some beautiful countryside, enticing you to take long leisurely drives. Relax in an air-conditioned vehicle as you explore the neighbouring towns and villages and take in the lush green fields and rolling hills of the Peak District National Park.
Car rental in Manchester Piccadilly
By booking a car with us, getting to the many theme parks and countryside parks around the Manchester area could not be easier. Take the short drive to Heaton Park in Prestwich, which offers great activities to entertain children of all ages or travel a little further afield to Bolton and enjoy its many parks.
With our hire cars you will have more than enough room to pack a picnic and enjoy a relaxing day lazing about on the grass, playing golf or sailing on one of the many lakes in the region.
There are no less than nine castles in the Greater Manchester area alone and three are Motte and Baileys. There are also three fortified manor houses, a ring work and a shell keep. Getting around them all will definitely make a fun-filled day for the whole family and a great way to get back in touch with some of the history that helped make Manchester the thriving and vibrant city it is today.
With great infrastructure linking towns, villages and other cities in the region, starting your trip by picking up a rental car at Manchester Piccadilly could not be easier. In addition, we offer a great selection of cars to choose from at affordable rates and with flexible pick up and return times.