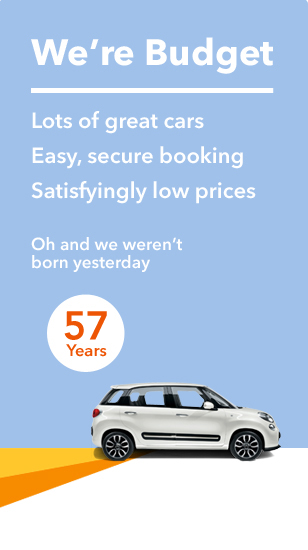 Car hire Liverpool Airport
Liverpool Airport is located five miles from the city centre. Our Budget Car Hire location can be found within the main arrivals halls of the terminal building.

Our promise is simply better value car hire - providing economy car rentals with the high level of service you expect when you hire a car for business or holidays.
Rent a car at Liverpool Airport
Liverpool Airport
Terminal Building
Liverpool
L24 1YD
Tel: 03445444656
Opening hours
sunday:

Closed


monday:

08:00 - 16:00 Hrs


tuesday:

09:00 - 17:00 Hrs


wednesday:

09:00 - 17:00 Hrs


thursday:

09:00 - 17:00 Hrs


friday:

09:00 - 17:00 Hrs


saturday:

Closed

Budget Rent-A-Car at Liverpool John Lennon Airport
View our convenient Budget car hire location on the map below.
Learn more about Liverpool
Liverpool
Liverpool is one of the most famous cities in England thanks to its outstanding contributions to the culture of the country.
Best known of these contributions is of course the Beatles, a band who revolutionised the image and scope of pop music in the golden age of pop, as well as bringing British music to the forefront of popular music all over the world - a position that has been maintained ever since.
There are plenty of reminders of this rich heritage if you head over to Liverpool after arranging to get car rental cheap from Budget. The Beatles museum near to the docks area is very easy to find thanks to the signposting, and provides plenty of insight into the life of this band as they grew from a group playing tiny clubs in the early 60s to a worldwide force.
There are also other Beatles related museums such as the John Lennon museum that is dedicated to his particular contribution to music and culture. Apart from these recent points of interest, Liverpool has had an important role in the history of Britain.
It has a very compact but attractive city centre with many examples of Victorian and earlier period buildings crammed into a spot that is easy to get around on foot, once you have arrived using your cheap car hire from Budget.
These buildings face onto the famous River Mersey, a very broad river that separates the two halves of the city. This gulf can be crossed using the local ferry services, which are a fun outing in themselves. There are also opportunities for boat hire from the harbour areas.
Car rental at Liverpool Airport
Liverpool is known for many different things. Sport is one of these; Liverpool FC are an internationally renowned football club, consistently performing highly in the English Premier League.
If you are aiming your visit to coincide with a football match, then be assured that the stadiums are very easy to find thanks to excellent signposting. Using a hire car will make it especially easy to reach the ground well before kick-off.
One fact that you may not know about Liverpool is that it is a World Heritage Site, just like the Great Wall of China! This is because of the seafaring importance of the city in the imperial days of Britain, when hundreds of ships were built and launched from Liverpool.
The city benefits from an extensive sea front and of course the broad scope of the river Mersey as it runs down the centre of the city. There are many shipping docks and construction areas to see, though sadly many of them are now defunct, as ship building has diminished in Britain.
Nevertheless, it is definitely worth taking out the rental car for a tour about these important historical sites as they help to give a real insight into the pivotal role that was played here. Start off at Albert Dock with its many listed buildings, head to Pier Head and down Stanley Dock in order to fully appreciate the World Heritage Site.
Liverpool is also an excellent destination for culture and art lovers using cheap car rental. There are several world class museum establishments on offer; try to visit the Museum of Liverpool for a start, which has many exhibits with an emphasis on the contributions of Liverpool to the world.
St George's Hall is a museum and an attraction in itself, and is considered one of the finest examples of neo-classical architecture in the country. Art galleries on offer include the Walker Art Gallery, with a strong selection of fine arts including historical and contemporary works.