Cheap Car Hire at Exeter Train Station
Enjoy your time in Exter with Budget Car Hire. Our St Davids Station location provides quality hire cars and friendly service at a great value price.
Let's go. Enter your rental dates in the form on the right to get a quote.
Car keys ready? We have put together some great suggestions below to ensure you get the most of your Devon car hire.
Rent a car at Exeter Train Station
St Davids Station
Exeter St Davids Meet & Greet
Exeter
EX44NT
Tel: 01392 422095
Opening hours
sunday:

Closed


monday:

09:00 - 17:30 Hrs


tuesday:

09:00 - 17:30 Hrs


wednesday:

09:00 - 17:30 Hrs


thursday:

09:00 - 17:30 Hrs


friday:

09:00 - 17:30 Hrs


saturday:

09:00 - 12:30 Hrs

Other Budget locations nearby
Budget Rent-A-Car at Exeter St Davids Train Station
Budget is located at St. Davids Station on Bonhay Street.
Explore Exeter with Budget Car Hire
Car hire in Exeter, Devon and beyond
Exeter, located in the south-west of England, is in the county of Devon. The city has been a major centre of education and the arts and is home to a university that hosts many artistic and cultural events.
The city's history stretches back to ancient Roman times which means there are several great historical places to see in Exeter that will appeal to history lovers; including structures that are hundreds of years old.
Dawlish Warren is one of the area's most popular beaches, and is easily accessible from Exeter by car. You want to be sure to arrive early, because this beach enjoys such popularity.
Darmouth is located to the south of Exeter, and you can also find the Exmoor and Dartmoor National Parks close by. These parks are ideal places to spend some time looking for local wildlife, which may include foxes and deer.
When you use a cheap car rental, you can be assured of driving in comfort as you visit the local sights, as well as having plenty of time to see everything. When you have a car rental, you will want to explore the beautiful countryside found in the rest of Devon, which is considered to be very noteworthy.
This area has several rivers, and the terrain is quite hilly. You may be able to spot several types of wildlife and birds in the more rural areas, and the forest areas are often home to wild ponies. Another advantage of this area is that it has some very scenic villages and small towns.
These places give you a good taste of what local rural life is like, and also feature historic buildings worth seeing. When you use your rental car from Budget, you can reach more areas that allow you to see some truly breathtaking scenery.
Spend some time enjoying a family picnic, or take loads of pictures of the beautiful sights in the area. These areas are ideal for leisure time, and are certainly worth visiting.
Budget rental cars allow you to easily visit major historical attractions, as well as local restaurants and shops. Getting a car rental cheap is a good way to ensure that your trips are leisurely and hassle-free.
All of the local and surrounding attractions are easily within your reach when you use a car and you can make your driving trip as long or short as you wish. When you get a cheap car hire, you can easily visit some of the famous sights like Exeter Cathedral, Rougemont Castle and the underground passages.
It is always advisable to rent a car, because some of the more popular attractions are actually located just outside of the city. You'll be pleased to know that Budget has vehicles available in a variety of sizes, so you can easily pick one that meets your needs perfectly, no matter what size your party is.
The Crealy Great Adventure Park is outside the city, with both outdoor and indoor attractions for kids. This is a perfect place to enjoy some family holiday time. Using cheap car rentals makes it easier to get to this fun family park and other local attractions that appeal to children.
When you have children travelling with you, it's much easier to get them to and from amusements using a car, rather than replying on public transport. Exeter has a canal system and the River Exe is close by, and this area makes an ideal place for bicycling.
When you get car hire cheap from Budget, you can easily transport your bike to wherever you want to use it. Whenever you're out driving in this area, always stay alert for cyclists and pedestrians, as many walking tours pass through here.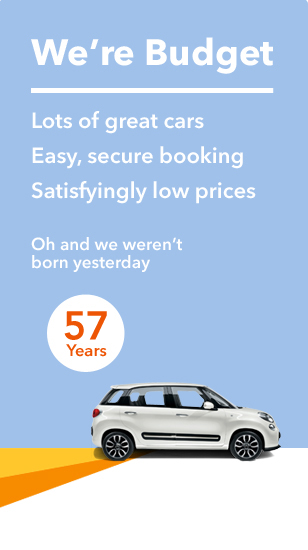 Other car hire locations