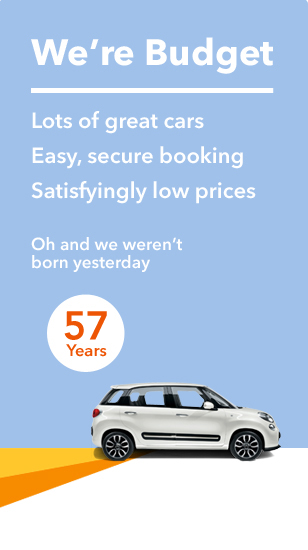 Car hire Plymouth
Enjoy your time in Plymouth with Budget Car Hire. We provide quality hire cars and friendly service at a great value price.
Let's go. Enter your rental dates in the form on the right to get a quote.
Car keys ready? We have put together some great suggestions below to ensure you get the most of your Plymouth car hire.
Rent a car in Plymouth
Stonehouse Street
Sutton Road
Plymouth
PL4 0HE
Tel: 01752 227460
Opening hours
sunday:

Closed


monday:

09:00 - 18:00 Hrs


tuesday:

09:00 - 18:00 Hrs


wednesday:

09:00 - 18:00 Hrs


thursday:

08:00 - 18:00 Hrs


friday:

08:00 - 18:00 Hrs


saturday:

08:00 - 13:00 Hrs

Other Budget locations nearby
Budget Rent-A-Car in Plymouth
View our convenient Budget car hire location on the map below.
Explore Plymouth with Budget Car Hire
Car hire in Plymouth, Cornwall and beyond
Plymouth is an easily accessible town with road, rail and air links. With the train station being on the main London - Penzance line, Plymouth makes a great weekend getaway for those living and working in the City.
Hop on the overnight sleeper on a Friday after work and this will give you the whole weekend to take in the natural delights of the area - not least the harbour with its relaxing maritime atmosphere. Of course, you need to be able to get around with ease once you arrive and Budget car hire in Plymouth has just the solution.
Although Plymouth itself is predominantly a harbour town, it does not possess any pleasure beaches. However , the nearby seaside resort of Torbay is perfect for sun seekers. Widely regarded as the 'English Riviera' because of the pleasant climate and beautiful beaches, it can be considered one of the finest coastal areas in Britain.
Families will love the quaint pass times along this stretch of coast with twenty two miles of sand and what is arguably the best sand in the United Kingdom for making sandcastles. Remember however if hiring a car with children under 135cm it is worth booking the child seats that Budget can provide to meet legal requirements.
With special deals, excellently maintained vehicles, child seats and sat nav you can organise your booking online with all the facilities to suit your party and budget.
As there is so much to see in this part of Britain you may not want to put all the driving into the hands of one party member. At the time of booking, be sure to select more than one driver so everyone can enjoy their holiday.
Plymouth is vibrant and energetic and has a lively nightlife with some fantastic clubs, bars and even casinos. If diving is your thing, Plymouth boasts Europe's first artificial reef, made up of a sunken Royal Navy frigate.
Whatever your reason for visiting Plymouth, be it business or pleasure, a beach is never far away and the maritime links are constant. As a base to explore the southeast of England it is unrivalled.