Cheap Car Hire at Chicago O'Hare Airport (ORD)
Treat yourself with a Budget hire car, and start your trip directly from Chicago Airport. Our airport location provides quality hire cars and friendly service at a great value price.
Let's go. Enter your rental dates in the form on the right to get a quote.
Car keys ready? We have put together some great suggestions below to ensure you get the most of your USA car hire.
Rent a car at Car Hire Chicago Airport
Chicago O'Hare Airport
Ord Ohare Airport
Chicago
60666
Tel: 773-894-1900
Opening hours
sunday:

00:00 - 23:59 Hrs


monday:

00:00 - 23:59 Hrs


tuesday:

00:00 - 23:59 Hrs


wednesday:

00:00 - 23:59 Hrs


thursday:

00:00 - 23:59 Hrs


friday:

00:00 - 23:59 Hrs


saturday:

00:00 - 23:59 Hrs

Budget Rent-A-Car at Car Hire Chicago O'Hare Airport
View our convenient Budget car hire location on the map below.
Explore Chicago with Budget Car Hire
Car hire in Chicago, Illinois and beyond
Tourists who are considering the US as a holiday destination will find themselves spoilt for choice in respect of which state to choose.
Chicago's many attractions often elevate it to the top of the list and cheap car hire is the best way to see everything this region has to offer.
Situated as it is on the waterfront, Chicago is a draw for many people who relish the close proximity to the lake on which the city sits.
The nightlife on the waterfront attracts many local residents from the surrounding communities as well as international visitors, offering bars and clubs that cater for all tastes.
As one of the largest cities in the state of Illinois and one of the most densely populated in the United States, Chicago is popular with national and international travellers alike and has all the attractions and activities required to satisfy a range of desires.
With there being such a large number of things to see and do in the city, it is prudent to make use of cheap car rentals in order to make travelling easier. Visitors to Chicago will get the opportunity to take in the culture of the city through a number of different methods, such as taking in a show at the Chicago Theatre or viewing the offerings at the Museum of Mexican Art.
In fact, Chicago is home to a number of museums and art galleries, which contributes to the tourism that the city benefits from; many of the travellers to the city are there for the purpose of experiencing the art and culture.
The Museum of Science and Industry is also worth a trip for those seeking to learn something new, as is the range of art galleries that can be found within River North.
Chicago is made up of a number of neighbourhoods, each with their own unique qualities and close communities that enable them to differ from one another. This makes it beneficial to be able to rent a car to travel from one point to another to take in as much as possible.
As bustling as the metropolitan city is, there is also the opportunity to enjoy the natural environment by making use of rental cars.
There are plenty of green spaces for tourists to visit and take a break from the hustle of the city.
Stretched along the waterfront, visitors will find the popular Lincoln Park, a space that sits in more than 1,000 acres. In addition to being home to the Lincoln Park Zoo, visitors can also visit the Lincoln Park Conservatory.
The south side is home to two of the largest parks in the city, Jackson Park and Washington Park, where visitors can kick back, relax and simply enjoy the surroundings.
Sports fans who pay a visit to Chicago will find it almost like a pilgrimage, with it being home to the Chicago Bears and the Chicago White Sox and the stadiums at which they play.
Making use of cheap car rentals will allow visitors to explore the city and experience lots of different sporting events.
This will also create the opportunity to visit the different neighbourhoods within Chicago, which is ideal for those who like to try a number of different types of cuisine.
The multicultural city has large Puerto Rican and Polish populations, for example, allowing visitors the chance to make bookings at a range of restaurants that specialise in ethnic food.
By undertaking a little planning, it is possible to get car hire cheap at Budget in Chicago, and booking a car in advance will ensure that the desired itinerary is possible.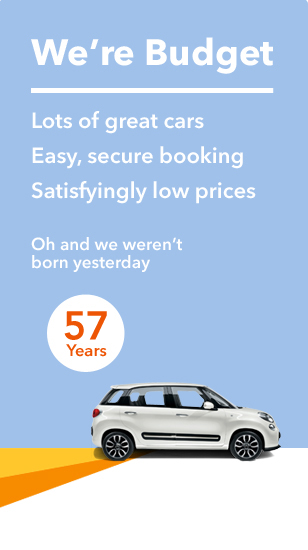 Other car hire locations