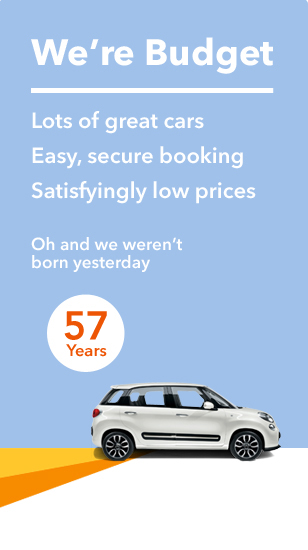 Other car hire locations
Car hire Newcastle
Keep on the move in and around Newcastle with a cheap car hire. Getting around Newcastle is easy if you rent a car that gives you the freedom to discover this northern city, one of the country's best known cities for art and culture located near England's north east coast.
Rent a car in Newcastle
George Street, Newcastle
7 George Street
Newcastle
NE4 7JL
Tel: 03445446135
Opening hours
sunday:

Closed


monday:

08:00 - 18:00 Hrs


tuesday:

08:00 - 18:00 Hrs


wednesday:

08:00 - 18:00 Hrs


thursday:

08:00 - 18:00 Hrs


friday:

08:00 - 18:00 Hrs


saturday:

08:00 - 15:00 Hrs

Other Budget locations nearby
Budget Rent A Car in Newcastle-upon-Tyne
View our convenient Budget car hire location on the map below.
Explore Newcastle with Budget Car Hire
Car hire in Newcastle, Northumbria and beyond
Exploring the Northumbrian coast of this beautiful and historic city is best done by road. A cheap car hire can make your stay in Newcastle an enjoyable and memorable one.
Considered the North East's capital city, Newcastle has been transformed from a centre of industry and commerce to one of the country's modern hubs for culture and nightlife.
This transformation came at a time when Newcastle's shipbuilding and coal industries declined. The picturesque coastline and gentle winding roads are a driver's delight so cars are really the best way to get about.
Drive by the river Tyne and see two of Newcastle's architectural landmarks that are a reminder of the old and new faces of the city – industry and business.
The Tyne Bridge dates back to 1928, while the newer Millennium Bridge has the distinction of being the world's first and only tilting bridge.
The city retains much of its old charm, and you will find yourself lost in its fascinating history and culture. If you are a soccer fan, drive to the mecca of Newcastle sports, the majestic St James' Park - home to the Newcastle United Football Club.
The nightlife of Newcastle
The city is famed for its legendary nightlife, and is an experience that should not be missed. The Newcastle pub experience is not complete without visiting Bob Trollop's, The Crown Posada and The Cooperage at The Quayside.
The pubs usually carry a moderate cover charge and are popular with younger visitors for the wild party nights. You could register a designated additional driver for weekends or party nights.
Activities around the city
If you thirst for adventure away from the city, drive out in a choice of four, five and seven-seater cars with us. A trip to Gibside would be pleasant, a stately home on the banks of the tranquil River Derwent, known for its flora and fauna.
Durham is known for Durham Cathedral and Durham University, both institutions that have a rich religious and literary heritage going back centuries.
If you would like to enjoy the great outdoors at the coast, Seahouses offers you a wide variety of activities including angling, equestrian leisure sports and guided walking tours of the area.
Alternatively, if you like probing the religious past of the region then Holy Island, commonly known as Lindisfarne, is a tidal island nature reserve that is well worth a visit. Remember, if you are staying outside of Newcastle, it is important to specify this when you rent a car with us.

Car rental Newcastle
The city's chief attractions include The Norman Castle, often known as "The Castle" and the towering spires of The Cathedral Church of St. Nicholas.
The Cathedral's crown spire towers nearly 200 ft. from the base and is an impressive and imposing structure.
If you would like to experience the history and culture of the city, drive to Grainger Town, home to Newcastle's traditional art and cultural establishments. The modern side of the city is seen in its shopping district at Gateshead.
Eldon Square and Metro Centre offer some of the largest indoor and outdoor retail stores in England.
One of the most iconic and visually appealing buildings in Newcastle is The Sage Gateshead where musicians, artists and the city's intelligentsia converge to celebrate art, music and culture.
Stop for a bite to eat at Sir Michael Straker Café, located within this iconic building on the banks of the Tyne. The city's excellent network of roads makes it ideal to get a hire car to see the sights in and around the city.
If you are travelling with family, it is wise to request our office to arrange child seating and a GPS.