Car hire Miami
Discover Miami with a cheap car hire from Budget Complete the form on the right to book Miami car hire. To find out more about Miami's attractions and routes, just continue reading.
Rent a car in Miami
Miami Downtown
89 Southeast 2Nd Street
Miami
33131
Tel: 305-377-4410
Opening hours
sunday:

08:00 - 14:00 Hrs


monday:

08:00 - 18:00 Hrs


tuesday:

08:00 - 18:00 Hrs


wednesday:

08:00 - 18:00 Hrs


thursday:

08:00 - 18:00 Hrs


friday:

08:00 - 18:00 Hrs


saturday:

08:00 - 16:00 Hrs

Other Budget locations nearby
Budget Rent-A-Car in Miami, Florida
View our convenient Budget car hire location on the map below.
Explore Miami with Budget Car Hire
Car hire in Miami and Florida
Miami is situated on the south-east coast of Florida and is one of the most famous sea resorts in the world.
It neighbours with Everglades Park and the Space Coast, and is surrounded with the beaches favoured by stars such as Madonna, Julio Iglesias and many more.
The city is divided into several sections: Central (Downtown), North, West and South. The greater Miami area is bordered by Everglades National Park from the west, Biscayne Bay and the Atlantic Ocean from the east and by the other cities from the south and north.
Downtown Miami, geographically a narrow territory between Biscayne Bay and the rest of Miami, is the centre of the city's financial and business life. Except from the numerous skyscrapers, the main attraction here is Bayside Mall - a shopping street featuring souvenir shops, bars and restaurants. There is also a big park with a fountain, attracting thousands of people every New Year and Independence Day for its spectacular fireworks.
Bayside Mall is also a place where you can book guided tours around Miami area. If you have a couple of spare hours, take a boat tour in Biscayne Bay; you will see Downtown Miami from the water, Miami port with huge cruise liners and beautiful houses of the Star Island.
Note that with Budget car hire you can drive through the different cities and states without having to return the car in the same branch at the end of your trip. Take advantage of this and explore Florida or the other states.
It would be really unfair to come to Miami and not visit Miami Beach. Head there for the famous white beaches, restaurants, Aventura Mall (the fifth large shopping centre in the US), and tourist streets Lincoln Road and Ocean Drive. So, if you are hiring a car, make Miami Beach your first stop.
So, if you decided to explore the greater area around Miami, here are some suggestions.
While exploring Miami Beach, you will probably go to South Pointe the most southern point of the city.
Take a walk in South Pointe Park, or there is also another interesting feature you might like. Almost every day in the afternoon, huge passenger ships leave Miami port to start their Atlantic cruises. To get to the ocean, they pass the narrow channel, which actually borders Miami Beach from the south. On some days you can see a whole parade of ocean liners, one by one leaving Miami port.
If you enjoy wild nature and outdoors, head to Everglades National Park, situated east of Miami. It is a huge natural reserve, covering 2358 square miles, which is an ideal place for hiking, camping, canoeing, fishing and many more activities. Visit the Everglades Alligator Farm, or just observe the numerous bird populations. Allow at least one day for visiting the Park.
Another great place that shouldn't be missed in Florida is Kennedy Space Centre. There is something interesting for everyone, whether you are traveling with children or not. The Centre's territory and the number of activities it offers are huge; quite often there is an opportunity to watch rocket launches. The drive times from Miami are quite high though (4 to 5 hours depending on the traffic), so it is reasonable to stay overnight or incorporate the visit into a trip along the coastline.
Definitely include Orlando in your Florida car trip, if you wish to visit one of the best amusement parks in the world. Disney World is called so for a reason it's an entire city with residents and a huge territory, including 4 theme parks and 2 water parks. Universal Studio Parks, though based on a smaller territory, are definitely worth a visit as well, offering a variety of breath-taking experiences.
On your way north from Miami there also many cities well worth a visit. Fort Lauderdale, called the American Venice for the network of canals, with its charming parks and busy nightlife is one of such cities. Stay overnight at one of the numerous beaches on the east coast to see a spectacular sunrise and catch a wave, if you enjoy surfing.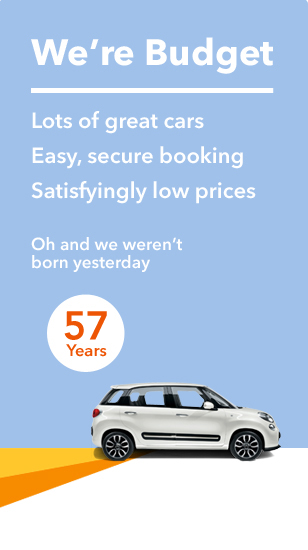 Other car hire locations