Glasgow Central Station Car Hire
When you arrive at Glasgow Central Train Station our Avis location is a short walk away in the Q-Park building.
Returning your vehicle, please enter the Q-Park building on Waterloo Street and proceed up the ramp to level 5. Park in one of the Avis Budget spaces and return the keys to a member of staff wearing Avis Budget uniform. If there is no member of staff on level 5 then please return the keys to the Avis Budget office on the ground floor. If you are returning out of hours, please put the keys in the Avis Budget Key Drop Box, located on the ground floor.

To find the key drop box, take the lift from level 5 to the ground floor. Exit the lift and turn right. Go through the door in front of you. You will be facing the 3 vehicle entrance/exit lanes of the car park. Using the pedestrian crossing, cross the lanes and turn left. The Avis Budget Key Drop Box is on the wall you are now facing, next to the Defibrillator.
Rent a car in Glasgow
Glasgow
Glasgow Central Station
Glasgow
G2 7DN
Tel: 07483130131
Opening hours
sunday:

07:00 - 18:00 Hrs


monday:

07:00 - 18:00 Hrs


tuesday:

07:00 - 18:00 Hrs


wednesday:

07:00 - 18:00 Hrs


thursday:

07:00 - 18:00 Hrs


friday:

07:00 - 18:00 Hrs


saturday:

07:00 - 18:00 Hrs

Explore Glasgow with Budget Car Hire
Car hire in Glasgow and beyond
Glasgow is a dynamic, modern city with a pounding nightlife and a reputation for excellent live music venues.
Daytime activities vary from fascinating museums outlining the history of the city, to modern-art galleries that provide endless pondering and entertainment.
In recent years, the Art Gallery and Museum of Kelvingrove has been completely refurbished and is now one of the top attractions in Glasgow. Originally a Victorian cathedral, this is an unusual and fascinating museum with a changing programme of temporary exhibitions and displays
On the other side of the town there is Holmwood House, a beautiful example of classical Greek architecture, while the Willow Tearooms are closer to town and a wonderful reconstruction of tea rooms designed originally by Charles Rennie Mackintosh.
To learn more of Glasgow's maritime history visit the Riverside Museum. With model boats, industrial displays and a narrative on the history of the Clyde, the river that winds through Glasgow, it is a fascinating look into the past. Outside, step aboard the Glenlee, a Glasgow-built three-masted barque that has been carefully restored by the Clyde Maritime Trust
And if you want to shop 'till you drop, we suggest Glasgow's Style Mile, where most shops are concentrated in the city.
Beyond Glasgow
Scotland's capital, Edinburgh is a little over an hour's drive away. Glasgow and Edinburgh cities have an age-old rivalry and the difference in the two cities is remarkable, despite their proximity. With cheap car rentals from Budget visitors to Scotland can experience both.
Take a road trip north to the Highlands for a glimpse into the heart of Scottish heritage. With our car hire service, taking a trip further north in Scotland is easy. The highlands of Scotland have a distinct history and voice, one of mythology and intrigue.
From the southern-most region of Fort William to the Northern Highlands, there is much to see and do. The wild hills of the Highlands are home to a variety of flora and fauna, wild tumbling waterfalls, racing rivers and misty moors. Romantic, tumbledown castles and beautiful mountain-locked lochs provide a wild and wonderful background to a holiday road trip.
Whether your interests lie in exploring these half-hidden beauties or racing through them on a bicycle or kayak, there are activities to suit all tastes. Go on a nature walk along winding paths, bird watching in the mountains or horse riding through the valleys. In winter, the Highlands are perfect for winter sports in one the three main resorts, Glencoe, Nevis and Cairngorm.
Our service makes exploring these fascinating aspects of Scotland easy, all just a few hours' drive from Glasgow in a Budget rental car.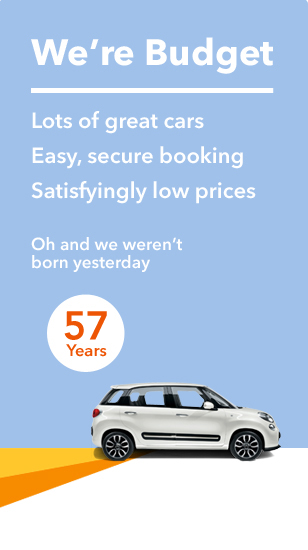 Other car hire locations