Cheap Car Hire in Florida
Discover Florida with cheap car hire from Budget. Complete the form on the left side of this page to book a Florida car hire. To find out more about Florida's attractions and directions, just continue reading. Florida is located on the south-east side of the USA and is often referred to as a "Peninsula State", as the majority of its territory sits on a peninsula between the Atlantic Ocean and the Gulf of Mexico.The most well-known nickname of Florida is 'The Sunshine State'; its other famous nicknames are 'The Everglade State' and 'The Orange State', all due to its natural and geographical features. The peninsula, where the most of Florida state is situated, stretches for approximately 610 km to the southernmost point of the US – Cape Sable, and is 200 km wide on average. This makes hiring a car the most convenient option if you wish to make the most of your Florida trip.
Explore Florida with Budget Car Hire
What to do in Florida
There are plenty of opportunities to travel by car in Florida; actually, it is the most popular way to travel here.
With Budget you can enjoy a one-way car hire, which means you do not need to return to the same branch at the end of your trip to return the car.
When travelling from the north, it's possible to see the main attractions of the east coast of Florida if you follow the route Jacksonville – Saint Augustine – Orlando – Fort Lauderdale – Miami – Key West.
Depending on how much time you have and what you are particularly interested in, you can vary the journey. If you are curious about astronautics or travelling with children, then you should definitely make a stop in Cape Canaveral to see NASA Kennedy Space Center before going to Orlando.
The amusement parks in Orlando area are also a must-see if you are travelling with children. If you are interested in wildlife and the outdoors, make sure you visit Everglades National Park, which borders Miami region from the west.
For the natural beauty and unforgettable sunsets you should without a doubt head from Miami to Key West, through the chain of tropical islands and bridges between them.
Although the whole journey can take you 4 hours, try to allow more time to make long stops and enjoy the scenery. For example, Islamorada is often said to feature the most beautiful sunsets in the US.
If you have decided to see the west coast of Florida, make sure you include Tampa, Sarasota and Fort Myers in your itinerary. Gainesville also has quite a few things to see, including a unique American Indian art exhibition.
This is just a short overview of the exciting things to see and to do in Florida, and the most convenient option to do so is to rent a car; it will give you independence and freedom of choice in terms of where to go and how long to stay.
You can choose useful extras like GPS at any of our car hire stations, making your journey more comfortable. Tailor your route depending on your tastes and the time you have.
Orlando, Florida
The most popular tourist destination in Florida is Orlando, with its beautiful parks, golf courses and, of course, the amusement parks surrounding it.
Walt Disney World Resort, Universal Orlando Resort, and SeaWorld Orlando are the world's most-visited entertainment resorts, all situated in the greater Orlando area.

Miami, Florida
Miami is another world-famous city to visit in Florida, with its spacious beaches, nightclubs and attractions like Miami Seaquarium and Parrot Jungle.Budget offers car hire in numerous locations in Miami and Orlando, if you choose to start your trip there.
Considerable territories in south Florida are occupied by the Everglades – a vast natural wetlands region. It was formed thousands of years ago, when extremely heavy rains caused Okeechobee lake to overflow and reach the Atlantic Ocean from one side and the Gulf of Mexico from the other.
Everglades National Park is an amazing place to visit, where you will find lots of adventures to experience, from bird-watching and hiking to fishing and kayaking. Try to allow more than one day to visit it, as it is really difficult to select just one activity from the huge variety it offers.
If you are interested in the colonial history of the US, you should make sure you visit the cities of Sent Augustine and Pensacola in northern Florida.
The atmosphere of an old Spanish town reigns with busy food markets, medieval forts and colourful street celebrations. The capital of Florida, Tallahassee, is situated between these two cities.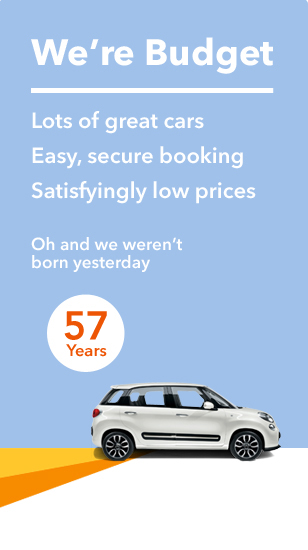 Other car hire locations