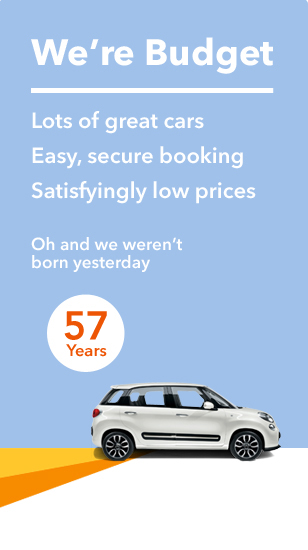 Other car hire locations
Car hire Chester
Need a fast, reliable car hire service in Leeds? Rent with Budget, we provide quality hire cars and a friendly service at a great value price.
Let's go. Enter your rental dates in the form on the right to get a quote.
Car keys ready? We have put together some great suggestions below to ensure you get the most out of your visit to historic Chester.
Rent a car in Chester
Chester
128 Brook Street
Chester
CH1 3DU
Tel: 01244318286
Opening hours
sunday:

Closed


monday:

08:00 - 18:00 Hrs


tuesday:

08:00 - 18:00 Hrs


wednesday:

08:00 - 18:00 Hrs


thursday:

08:00 - 18:00 Hrs


friday:

08:00 - 18:00 Hrs


saturday:

08:00 - 13:00 Hrs

Other Budget locations nearby
Budget Rent-A-Car in Chester
View our convenient Budget car hire location on the map below.
Explore Chester with Budget Car Hire
Car hire in Chester and beyond
Getting car rental cheap in Chester is highly beneficial for visitors to the region, as they will find that there is so much they can spend their money on.
The quaint impression that Chester presents can be deceptive as there are plenty of opportunities to buy great quality items, whether trinkets, clothes or shoes.
A perfect way to take a break during a shopping spree is to stop for a tasty meal, which can be especially enjoyable in one of the many fine dining establishments to which Chester plays host.
Famed for its fine restaurants and quality hotels, Chester is a perfect destination for travellers looking for a break where they can pamper themselves and indulge their every whim.
The calm and tranquility of Chester makes it an ideal destination for those seeking to take some time away from the hectic environment of a major city.
Offering a perfect blend of the old world with the new, Chester has everything that visitors will need, from shopping and fine dining to picturesque views and relaxation.
Situated on the banks of the River Dee, tourists who enjoy the natural world will find the river just one of the locations that they can take pleasure from in a number of different ways.
As an example, a trip along the river in a barge will allow a break from car rental driving and enable a trip to be made all the way to Northwich. However, this is by no means the sole pleasure that can be taken from this idyllic natural environment.
The rural backdrop of the countryside around Chester creates the perfect place in which to take a holiday for many, as it offers a completely different scene to that of the usual holidaymakers' itinerary.
Cheap car hire allows visitors to take in the surrounding environment in the way they want; whether this is losing themselves in a field or wandering along the City Wall to explore its limits.
The beautiful manicured gardens that Chester is home to can also prove to be an attractive sight that can be taken in during guided walks, which also feature historic buildings. The pride that the residents have in their homes is plain to see through the care taken of the gardens, such as Mount Pleasant in Tarporley.
Those that like animals will be delighted by a visit to the world-famous Chester Zoo, which is home to a number of different animals that entertain people of all ages.
Chester is also a great destination for fans of horse racing, boasting as it does a renowned racecourse where many events take place, creating an ideal place for an outing.
The history of Chester dates back to the Roman era and making use of a hire car is the perfect way to view the historic touches within the city.
Cobblestone paved streets and charming, old-fashioned buildings can be explored with cheap car rental from Budget, giving the discerning traveller a level of freedom that ensures they are able to go at their own pace and take everything in.
However, getting car hire cheap in Chester is the first step to a bargain break with cheaper alternatives being available for those on a budget.