Cheap Car Hire at Calgary Airport (YYC)
Enjoy your time in Calgary with Budget Car Hire. Our airport location provides quality hire cars and friendly service at a great value price.
Let's go. Enter your rental dates in the form on the right to get a quote.
Car keys ready? We have put together some great suggestions below to ensure you get the most of your Canada car hire.
Rent a car at Calgary Airport
Calgary International Airport
Calgary Intl Flyin Cust Only
Calgary
T2E 6W5
Tel: 403-221-1715
Opening hours
sunday:

07:00 - 02:00 Hrs


monday:

07:00 - 02:00 Hrs


tuesday:

07:00 - 23:59 Hrs


wednesday:

07:00 - 23:59 Hrs


thursday:

07:00 - 02:00 Hrs


friday:

07:00 - 02:00 Hrs


saturday:

07:00 - 02:00 Hrs

Budget Rent-A-Car at Calgary International Airport
View our convenient Budget car hire location on the map below.
Explore Calgary with Budget Car Hire
Car rental Calgary
A trip to Prince's Island Park is a great way to spend time on walking trails and possibly to catch a festival, which will generally occur during the summer.
Your cheap car hire will be very convenient for allowing you to get to the park easily. The Inglewood Bird Sanctuary & Nature Centre nearby is free to the public, with hundreds of plant, bird, and mammal species and you will want to include it in your plans.
You can be sure that the car is reliable and will help get you to wherever you want to be, without any difficulties. Banff is a beautiful park that is known to visitors around the world, and is one of Canada's most popular camping destinations.
Here, you can see some stunning mountain scenery, showing the very best that the Rockies have to offer. You will have the opportunity to see many types of wildlife, including bears, wolves, elk, and eagles.
Another nearby attraction that is worth a visit is Lake Louise, which is known for its lake and the nearby skiing opportunities. You will enjoy a very nice ride when you get out in the areas that surround Calgary, thanks to your cheap car rental.
Calgary, Alberta
Calgary is located on the eastern flank of the Canadian Rockies. The city has a lot of oil production, and is a major centre for tourism and trade.
Calgary is home to several museums, parks, and interesting districts that have their own unique flavour, and is within easy driving distance of some of Canada's most beautiful wilderness areas.
No matter what focus your holiday takes, you will find that car rental cheap from Budget provides you with the best means of transportation.
Cheap car rentals from Budget also put you within very easy reach of the different shops and restaurants. Your car hire cheap gives you much more freedom to come and go as you please, especially when you plan to include some of the exciting wilderness sights.
Visitors will want to see the several sights that give Calgary its distinct feel, including the Devonian Gardens, the Calgary Tower, Chinatown, the Glenbow Museum, and Telus Spark.
It is a good idea to rent a car to allow more time to see the attractions, as well as be better prepared for unexpected weather conditions. Budget offers vehicles in many different size ranges, so regardless of whether you need a small saloon or large van, you will find the right one.
If you enjoy professional sports, there are many options to choose from, including professional hockey, Canadian football, and lacrosse. Different sports venues are in different locations, so a hire car is quite helpful, and it will allow you to get to the match in time.
If you intend to travel as part of a group and have several bits of luggage, you will be able to find a car of a suitable size, especially if you are travelling with children or teens.
Because of its close proximity to the Rocky Mountains, Calgary has some very cold winters, so you will need to wrap up. All of the rental cars from Budget feature very efficient heating, so you will stay comfortable, even in the bitterest cold.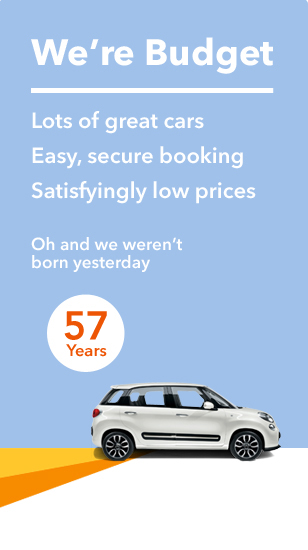 Other car hire locations