Car hire Vancouver Airport
Enjoy your time in Vancouver with Budget Car Hire. Our airport location provides quality hire cars and friendly service at a great value price.
Let's go. Enter your rental dates in the form on the right to get a quote.
Car keys ready? We have put together some great suggestions below to ensure you get the most of your Canada car hire.
Rent a car at Vancouver Airport
Vancouver Airport
Vancouver Intl Apo
Vancouver
V7B 1V1
Tel: 604-713-3102
Opening hours
sunday:

06:00 - 00:30 Hrs


monday:

06:00 - 00:30 Hrs


tuesday:

06:00 - 00:30 Hrs


wednesday:

06:00 - 00:30 Hrs


thursday:

06:00 - 00:30 Hrs


friday:

06:00 - 00:30 Hrs


saturday:

06:00 - 00:30 Hrs

Other Budget locations nearby
Budget Rent-A-Car at Vancouver Airport
View our convenient Budget car hire location on the map below.
Explore Vancouver with Budget Car Hire
Car hire in and around Vancouver
Situated on the west coast of Canada and overlooking the Pacific Ocean, Vancouver is a melting pot of ethnicity. It is the capital of the state of British Columbia and the third largest city in Canada.
Some areas carry an Edwardian heritage, seen in the architecture, but in areas such as China Town, the wonderful mix of influences from around the world is clear. The city treasures its wide-open spaces; there are parks all over Vancouver, many of them specially landscaped to make the very best of the spectacular views over the ocean.
Having the sea on one side and the Rocky Mountains to the north, visitors can take advantage of a diversity of sporting activities. Thanks to the mild winter temperatures, you can ski in the morning and play golf in the afternoon.
If you intend to do these kinds of activities, cheap car rental is essential. There is great deal to see and experience in the city and the surrounding countryside so whatever your reason to visit Vancouver, a hire car from us will open up this wonderful environment.
Car rental sets you free to explore, so choose a vehicle from our fleet to meet your holiday needs. Whether you want a compact vehicle for you and a partner to buzz around the city, or something larger to accommodate the kids on a day trip to the lakes, there will be something to suit your particular requirements.
If you like shopping and eating out, Vancouver will provide all the retail and dining experiences you could possibly want from one holiday. The city's varied cultures provide a global eating experience, and there are many ethnic shops, boutiques and large stores.
When it comes to shopping, you will really appreciate hiring one of our cars. You can pack all your purchases into the boot and drive off to find a restaurant, which is much better than having to drag all those bags in with you. Vancouver is not short of culture.
There are art exhibitions and galleries around the city which you can visit at your own pace, making your holiday more enjoyable as you don't have to rely on pre-booked tours. These types of holidays are usually more fun, rather than constantly sticking to a tight schedule.
Stanley Park, Vancouver's largest and most spectacular park is a great place to take children. There is a miniature railway, aquarium, a beach pool and art projects for kids during the summer season. Adults can enjoy the beautiful laid-out gardens, the urban forest, designated pathways and pedestrian walks to enjoy the views over Vancouver Bay.
There are several restaurants and snack bars available, making it possible to spend the whole day here, and with a good car park, you can leave your car there with peace of mind. You can take a leisurely horse and carriage ride around this huge green space for a truly relaxed experience.
If you have the time, take a ferry trip to Victoria. It is a short trip from Vancouver and there are dozens of different routes to choose from to explore. While the city of Vancouver has many attractions, the British Columbian countryside must not be missed. Use cheap car hire from Budget and take the time to discover the beautiful scenery of the country roads.
The major tourist attraction is the Rockies which is worth a two or three-day excursion. They are an extraordinary sight to behold. There are many activities to choose form including white-water rafting, hiking, nature trails and rock climbing for the energetic crowd.
If you visit in the winter, there are winter sports in the Whistler area. You will need a dependable car, and we will make sure you vehicle is equipped for the extreme weather conditions.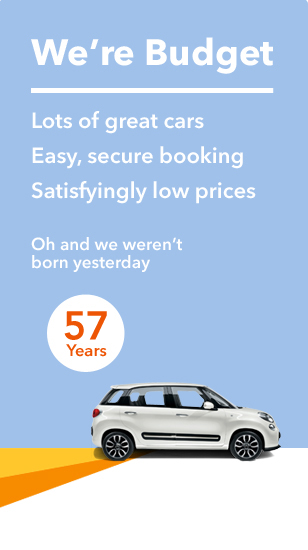 Other car hire locations