Cheap Car Hire at Bordeaux Airport (BOD)
Explore Bordeaux with Budget Car Hire, our airport location provides quality hire cars and friendly service at a great value price.
Get going. We've put together some great suggestions below to help you get the most out of your car hire in picturesque Bordeaux.
Rent a car at Bordeaux Airport
Bordeaux Merignac Airport
Bordeaux Merignac Airport
Bordeaux
33700
Tel: 0821230498
Opening hours
sunday:

09:00 - 23:00 Hrs


monday:

07:30 - 23:00 Hrs


tuesday:

08:00 - 23:00 Hrs


wednesday:

08:00 - 23:00 Hrs


thursday:

08:00 - 23:00 Hrs


friday:

07:30 - 23:00 Hrs


saturday:

07:30 - 20:00 Hrs

Budget Rent-A-Car at Bordeaux Merignac Airport
View our convenient Budget car hire location on the map below.
Learn more about Bordeaux
About Bordeaux Merignac Airport
Bordeaux Merignac Airport is the fifth largest in the country, outside Paris, in terms of the number of passengers that it serves each year.
Read on to discover just how choosing car rental at Bordeaux Merignac Airport can be a convenient and easy way of exploring the area.
Bordeaux Merignac Airport was opened in 1909 and since that time has grown and now ranks as one of Europe's major regional airports.
Particularly important to the development of the airport and its increased traffic has been the arrival of low-cost airlines.
These operators have enhanced links between Southwest France and other regions of the country as well as a number of international destinations.
In 2008, Bordeaux Airport welcomed three and a half million passengers through its gates
Explore the Bordeaux region in a Budget hire car
Bordeaux was, for a long time, known as the 'sleeping beauty' of France, but these days this graceful city, with its neoclassical buildings, grand boulevards and high-tech public transport system is buzzing with life, due in part to its large student population.
The Bordeaux region has plenty of attractions and with car rental cheap and convenient, it is the ideal way to explore the region. Rent a car and you can visit at your leisure, as well as go off the beaten track.
The city is home to many architectural treasures, including the Basilique Saint-Seurin, which is now a UNESCO World Heritage site. This austere and imposing building is mainly Romanesque in style, but subsequent additions over the centuries have added a range of other styles. The Jardin Public was established in 1755 and is beautifully laid out in an English style.
The esplanade des Quninconces is a vast square that was constructed in 1820 and features the magnificent Girondins monument. The four-kilometre long riverfront esplanade has been recently renovated and is now a pleasant place to take a stroll, with bicycle trails, playgrounds and a wafer thin swimming pool that is very popular with young Bordelaise in the summer.

In terms of cultural activities, Bordeaux has a number of charming museums. The Musee d'Histoire Naturelle is a quaint old-fashioned museum that features an exhibition of regional fauna and lots of insects and quality taxidermy. The Musee de Beaux Arts traces the evolution of Western art from the Renaissance up to the mid 20th century.
The museum is housed in the Hotel de Ville, which dates back to the 1770s. Highlights include Italian, Flemish and Dutch paintings and there are also temporary exhibitions in the nearby annexe.

Bordeaux is, of course, famous for its wines, but the area also features fine cuisine. The region is well known for its shellfish, which include shrimps, crabs, cockles, mussels and oysters - though its most famous dish is entrecote marchand de vin, a beef dish. However, those who enjoy lamb will also find the agneau de Pauillac, which is made from the meat of animals that graze on the salt marshes around Pauillac, well worth trying.
Bordeaux is famous for its wine and many of the nearby villages are associated with the industry, including St. Emilion and Sauternes. St. Emilion is a UNESCO World Heritage Site and has a number of historic buildings and museums, as well as offering visitors the chance to sample its famous wines.
Rent a car and you can drive round and visit the many vineyards and estates, such as Chateau Margaux, which is famous for producing some of the most eagerly sought after red wines in the world. Vintage bottles of the estate's products are often sold for record prices.
For a more active experience visit the Dune de Pyla, the highest sand dune in Europe. Climbing to the summit of the dune is well worth the effort, as the views are stunning. It is said that on a clear day it is possible to see the Pyrenees.
Paragliding is very popular, but if you prefer something a little more relaxing there are around 50 kilometres of sandy beaches along the Atlantic coast, with cafes, hotels and waterfront attractions. Cheap car rentals from Budget will allow you to experience more of Bordeaux and the surrounding countryside.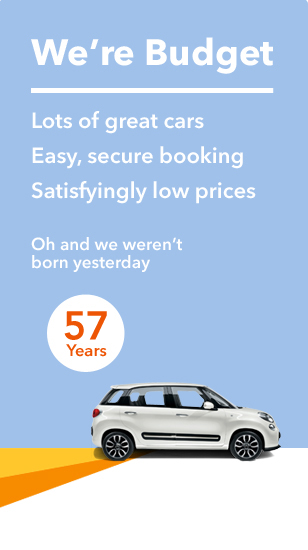 Other car hire locations