Cheap Car Hire at Denver Airport (DEN)
Enjoy your time in Denver with Budget Car Hire. Our airport location provides quality hire cars and friendly service at a great value price.
Let's go. Enter your rental dates in the form on the right to get a quote.
Car keys ready? We have put together some great suggestions below to ensure you get the most of your car hire.
Rent a car at Denver Airport
Denver Airport
Den Denver International Airport
Denver
80249
Tel: 303-342-9001
Opening hours
sunday:

00:00 - 23:59 Hrs


monday:

00:00 - 23:59 Hrs


tuesday:

00:00 - 23:59 Hrs


wednesday:

00:00 - 23:59 Hrs


thursday:

00:00 - 23:59 Hrs


friday:

00:00 - 23:59 Hrs


saturday:

00:00 - 23:59 Hrs

Other Budget locations nearby
Budget Rent-A-Car at Denver Airport
View our convenient Budget car hire location on the map below.
Explore Denver with Budget Car Hire
Car hire in Denver, Colorado and beyond
Denver International Airport is situated in the north-eastern area of city and is one of the busiest airports within the United States. Being such a vast city, arriving at Denver International Airport you will not find car hire cheap anywhere better than Budget.
The city of Denver is a place that was born of gold. The small amounts that were found at the base of the Rocky Mountains spurred a large number of prospectors all hoping to strike it rich.
Despite the lack of gold in the area it did not stop the city of Denver from being established with a saloon being the first permanent structure. The city of Denver is known as one of the main places where beer is produced, and boasts of producing more than any other city in the United States.
There is no end of things to see and do within the city and therefore finding a cheap car rental is essential for you to get around. One attraction that is worth visiting is the Molly Brown House Museum, the home of a Titanic survivor.
There are no end of museums and places of interest in Denver, and with our service more time can be spent seeing as much of the city as possible including the Denver Art Museum and the Denver Museum of Nature and Science.
For the thrill seeker, a trip to the Lakeside Amusement park is a must and is suitable for all the family, as along with 39 rides there are an additional 15 for children. Other forms of pulse raising attractions include the Aviation Xtreme Flight Simulation Center Skyventure Colorado that offers visitors the chance to have a go at indoor skydiving.
Plus there is the Denver Zoo along with the Downtown Aquarium, so getting around with a car is essential. There is plenty of history in Denver and a hire car will be a great way for you to get around and take in all the sights and places of interest including the Historic Denver Coliseum.
Amongst all the main activities there are also many sporting attractions on offer, and opting for one of Budget's cheap car rentals will provide you with the means to see as many as you can during your visit.
Despite its warm climate, Denver is not far away from some great skiing with the Loveland Ski area only 53 miles away. There is even the option to go white water rafting or to take advantage of the 850 miles of paved trails to go hiking or biking.
All throughout the year the weather in Denver is very surprising, with very little rain and mild winters. The city has more days of sunshine than the likes of San Diego and Miami. With this in mind, we can offer a great range of rental cars that will keep you cool no matter what it is like outside.
Overlooking the city, the Rocky Mountains are an amazing spectacle that can be easily reached by taking advantage of Budget's car rental cheap rates, so plenty of trips out to explore the area are a must.
The Coors Brewery Tour where you can experience the whole brewing process before enjoying a sample is within driving distance just outside the city to the west. Another must see attraction is the Colorado Railroad Museum which is located to the west of the city in Golden.
If you take a trip to Fort Collins in your hire car there is the Budweiser Brewery that offers a tour through their brewing process and is around a 64 mile drive north of Denver.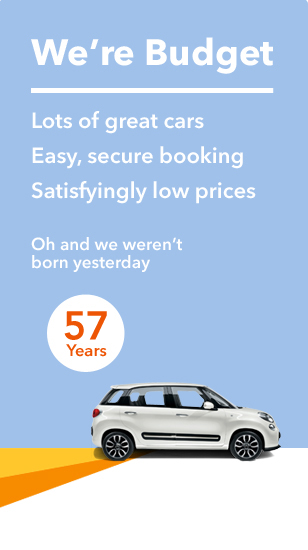 Other car hire locations