Cheap Car Hire at Murcia Airport (RMU)
Budget are located in the main terminal at Murcia Airport. Easily accessible, with many major roads and its own railway station, the airport is the perfect starting point for a visit to the Andalucia region.
Rent a car at Murcia Airport
San Javier Airport
Airport Meeting Point Bus
Murcia
30155
Tel: 968975853
Opening hours
sunday:

Closed


monday:

09:00 - 21:15 Hrs


tuesday:

09:00 - 21:15 Hrs


wednesday:

09:00 - 21:15 Hrs


thursday:

09:00 - 21:15 Hrs


friday:

09:00 - 21:15 Hrs


saturday:

09:00 - 21:15 Hrs

Budget Rent-A-Car at Murcia San Javier Airport
View our convenient Budget car hire location on the map below.
Explore Murcia with Budget Car Hire
Driving in Malaga
Exploring Malaga and the surrounding area could not be easier; our car hire service make the process even more straightforward and affordable.
There are many choices easily accessible by driving: perhaps you would like to experience a bullfight at the Plaza de Toros, first used in 1785, or a wine tasting tour might be more to your liking - though not if you're driving, of course.
With stunning scenery peppered with avocado and olive orchards, rolling hills, azure seas and golden beaches, driving offers the most comfortable way of taking it all in.
There are no worries about having to cut back on buying souvenirs because you cannot carry them all back to your hotel on the bus: a cheap car hire is the perfect – and most affordable - option for those who want more freedom during their time in Spain.
With a history spanning over 3,000 years, Malaga is rich with ancient architecture, just waiting to be explored. Visit settlements from the time of Roman rule in 218BC or Greek ruins remaining from the sixth century, the history on display here is spectacular and all easily accessible.
In a city that has many influences, from Phoenician to Christian, Muslim to Moorish, perhaps the only way to truly appreciate the depth of this region and see most of it is by driving around town.
Modern innovations and conveniences also await tourists here, but they have been blended in so seamlessly with the ancient feel of the city that it will, at times, seem like being in another time altogether.
Now that you've learned about all that Malaga has to offer, start planning your trip by booking your car rental now. The area has never been easier to explore.
Explore Malaga with Budget car hire
With Budget located in the main terminal, you need waste no time in getting your trip underway.
Malaga is a beautiful seaport located on the Costa del Sol in southern Spain, only a short distance from Malaga Airport, which serves almost five million passengers per year.
Having driven out of Malaga Airport, the next choice to make is what to visit first, such is the wealth of attractions available in this region.
Famed for its rich architectural heritage, as well as being the birthplace of Picasso, the Mediterranean city of Malaga has much to offer, from historic landmarks to modern innovations.
Travelers can drive to the Alcazaba Fortress, built in 1040 by King Badis of the Zirid dynasty to help protect the royal family from invaders. The castle sits atop the highest point of the hill and is one of the best-preserved 'Alcazaba's' in Spain.
A short drive from Malaga lies Castillo de Gibralfaro, the ruins of a castle lying on the slopes of Malaga Hill overlooking both the city and the sparkling Mediterranean Sea. This Moorish castle was built during the Phoenician-Punic period and offers visitors the chance to step back in time.
No trip to Malaga would be complete without visiting Plaza de la Merced (Casa Natal de Picasso), which is a large pedestrian plaza dedicated to the birthplace of the world famous artist.
Filled with cafes and art exhibitions, many of which are temporary, the Plaza offers visitors the perfect chance to stretch their legs while marveling at artistic treasures after a long day exploring the region.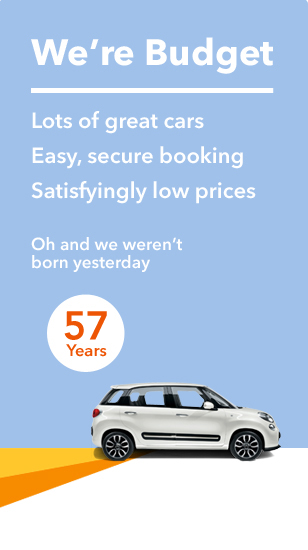 Other car hire locations