Car hire Dubai Airport
Discover Dubai with Budget Car Hire. Our airport location provides quality hire cars and friendly service at a great value price.
Let's go. Enter your rental dates in the form on the right to get a quote.
Car keys ready? We have put together some great suggestions below to ensure you get the most of your car hire.
Rent a car at Dubai Airport
Dubai Airport
Dubai Airport
Dubai
8323
Tel: +971 800 283 438
Opening hours
sunday:

00:00 - 23:59 Hrs


monday:

00:00 - 23:59 Hrs


tuesday:

00:00 - 23:59 Hrs


wednesday:

00:00 - 23:59 Hrs


thursday:

00:00 - 23:59 Hrs


friday:

00:00 - 23:59 Hrs


saturday:

00:00 - 23:59 Hrs

Budget Rent-A-Car at Dubai International Airport
View our convenient Budget car hire location on the map below.
Explore Dubai with Budget Car Hire
Car hire in Dubai
Dubai International Airport is located to the south east of Dubai in the Al Garhoud district and is the largest travel hub within the Middle East. There are a total of three terminal buildings, each with one of our branches cheap rates are available on all models.
The city of Dubai is a sovereign state within the United Arab Emirates and is divided into two areas that are separated by the creek: the Deira to the north and Bur Dubai in the south side.
A wonderful city, Dubai has many sights and attractions where taking advantage of a cheap car rental from Budget will mean you can easily travel around to see as many as possible during your stay.
The Dubai Museum is located on the Bur Dubai side of the creek and showcases a unique glimpse into life in the desert displaying many items including weapons and musical instruments.
Opposite the museum is the Grand Mosque that was rebuilt in 1998 and is an important landmark not to be missed. Built on an artificial island, the Burj Al Arab is a distinctive building shaped like a vast sail and offers visitors some spectacular views across Dubai city.
An extremely important archaeological site, Jumeirah is where there have been discoveries of artefacts that date back to the 6th Century AD. For a bit more fun, use your rental car to take advantage of the Wild Wadi Waterpark for some water adventure - rides include the Jumeirah Sceirah which is an almost free fall ride.
Burj Khalifa is officially the tallest building in the world, standing at a total height of 828 metres with an observation deck that is on the 124th floor and offers a full view of the city. By taking advantage of our great car rental rates, transport around the city will allow you to see much more of what Dubai has to offer.
Over the last few years there have been more sporting activities becoming available in Dubai and with a gulf that is rich in marine life, fishing trips are becoming very popular. With the numerous golf courses around the city, rental cars are an essential element for any keen golfer hoping to play them all.
Along with horse and camel racing, there are many other pursuits available including a fun park called Wonderland or various indoor activities for when the sun becomes too hot; Go Karting, ice skating or even a Dubai twist on bowling, Thunder Bowl.
As expected, the weather in Dubai is all year round sunshine with continuously high temperatures, so when you take a hire car from Budget you can be assured that your comfort will be catered for with a wide selection of makes and models to choose from.
On the outskirts of Dubai is a place called Hatta, a historical town that is situated within the foothills of the Hajar Mountains. One of the main attractions there are Rock Pools located around 12 miles from Hatta and well worth a trip taking advantage of the cheap car rentals available from Budget.
Before the town of Hatta was modernised the Heritage Village was kept in its original state, offering visitors a glimpse of life with mud huts and stone buildings. Dubai has some amazing attractions and with our service transportation to these places will give you some special memories to take home.
The World Islands are a man-made set of islands shaped into the continents of the world that are truly unique as visitors will not see anything like them anywhere else.
The Atlantis Resort and Hotel has everything a visitor would need; from dining and shopping to a fitness centre and a nightclub, it truly is an amazing structure.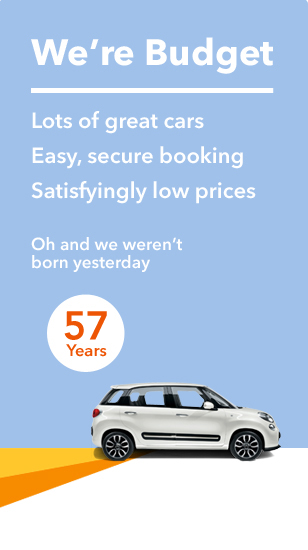 Other car hire locations