Car hire at O.R. Tambo International Airport, Johannesburg
Enjoy your time in Johannesburg with Budget Car Hire. Our car rental stations at O.R. Tambo International Airport in Johannesburg provides quality rental cars and friendly service at a great value price.
Let's go. Enter your rental dates in the form on the left to get a car hire quote.
Car keys ready? We have put together some great suggestions below to ensure you get the most of your car hire.
Rent a car at Johannesburg Airport
O.R. Tambo Airport
O.R. Tambo Int Apt
Johannesburg
1600
Tel: 27 11 573 5000
Opening hours
sunday:

00:00 - 23:59 Hrs


monday:

00:00 - 23:59 Hrs


tuesday:

00:00 - 23:59 Hrs


wednesday:

00:00 - 23:59 Hrs


thursday:

00:00 - 23:59 Hrs


friday:

00:00 - 23:59 Hrs


saturday:

00:00 - 23:59 Hrs

Explore Johannesburg with Budget
Car hire in Johannesburg and beyond
Johannesburg is the biggest city in South Africa and the capital city of the province of Gauteng.
Johannesburg has grown from a 19th-century gold mining settlement to one of the 50 largest cities in the world. Located entirely inland without benefit of a shoreline, lake or river, Johannesburg residents claim it is the world number one for lightning strikes (although this has never been verified).
Make the most of a visit to Johannesburg
Johannesburg is the seat of South Africa's Constitutional Court. It is famous for diamond and gold excavations on an immense scale.and the richness in natural minerals of the nearby Witwatersrand Hills continue to provide precious stones and gems to this day.
The city of Johannesburg offers a variety of attractions, including a wide range of museums, the most famous of which is the Apartheid Museum. You can also visit Liliesleaf Farm, the former HQ of the ANC and Constitutonal Hill, ome of South Africa's most important historical sites.
The best way to explore all these attractions is by car, and booking car rental online with Budget could not be easier.
With limited public transport and mini cabs being difficult to find outside of the city, an inexpensive car rental is definitely the way to go. Driving in Johannesburg is straightforward enough, vehicles are driven on the left and road signs and directions are in English.
The city has a new road network too, which has evolved, as the city itself, in a mostly northerly direction. The main motorway is the N1, which connects Johannesburg with Pretoria to the north and Cape Town to the south. The N12 leads to the Kimberley mine area, Witbank and to the Kruger National Park and famous safari land, while the N3 leads towards the south-east coast and to Durban.
If you're planning a few day trips from Johannesburg a hire car is the best way to visit attractions outside of the city, including The Cradle of Humankind, Magaliesberg mountains, the diamond mine at Cullnan and Marievale Bird Sanctuary.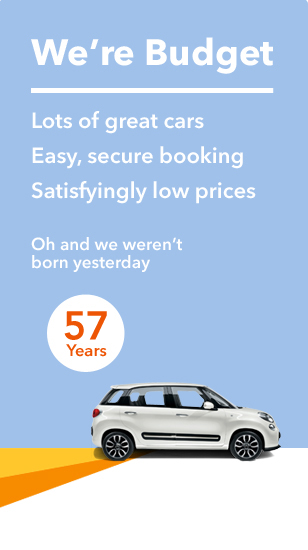 Other popular car hire locations in South Africa