Car hire Lanzarote Airport
Enjoy your time in Lanzarote with Budget Car Hire. Our airport location provides quality hire cars and friendly service at a great value price.
Let's go. Enter your rental dates in the form on the right to get a quote.
Car keys ready? We have put together some great suggestions below to ensure you get the most out of your visit to Lanzarote.
Rent a car at Lanzarote Airport
Lanzarote Airport
Aeropuerto De Lanzarote
San Bartolomé Lanzarote
35509
Tel: 928 092 330
Opening hours
sunday:

07:00 - 22:00 Hrs


monday:

07:00 - 22:00 Hrs


tuesday:

07:00 - 22:00 Hrs


wednesday:

07:00 - 22:00 Hrs


thursday:

07:00 - 22:00 Hrs


friday:

07:00 - 22:00 Hrs


saturday:

07:00 - 22:00 Hrs

Other Budget locations nearby
Budget Rent-A-Car at Lanzarote Arrecife Airport
View our convenient Budget car hire location on the map below.
Explore Lanzarote with Budget Car Hire
Car hire in Lanzarote
Lanzarote an island famed for its stark lunar landscape, particular in the central parts. The northern areas are greener while the best beaches are reputedly found in the south. Papagayo, tucked away in the Los Ajaches nature reserve, is a truly stunning white-sand beach, and well worth the trip.
About 80 miles off the African coast, the island is just 37 miles long and 12 miles wide. Although small, it offers many attractions and car rental means you can enjoy the scenery at your own pace, stopping off whenever and as often as you like.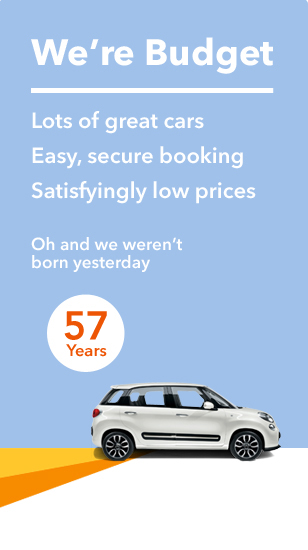 Other car hire locations