Car hire Washington Airport
Go on an adventure in Washington with Budget Car Hire. Our airport location provides quality hire cars at a great value price.
Let's go. Enter your rental dates in the form on the right to get a quote.
Car keys ready? We have put together some great suggestions below to ensure you get the most of your car hire.
Rent a car at Washington Airport
Dulles Airport
Iad Dulles Airport
Sterling
20166
Tel: 703-437-9559
Opening hours
sunday:

00:00 - 23:59 Hrs


monday:

00:00 - 23:59 Hrs


tuesday:

00:00 - 23:59 Hrs


wednesday:

00:00 - 23:59 Hrs


thursday:

00:00 - 23:59 Hrs


friday:

00:00 - 23:59 Hrs


saturday:

00:00 - 23:59 Hrs

Budget Rent-A-Car at Washington Dulles Airport
View our convenient Budget car hire location on the map below.
Explore Washington with Budget
Car hire in Washington and Virginia
Dulles Airport is an international hub set in the green surrounds of Virginia State. A mere 26 miles from the American capital of Washington DC, flights from across the world land here, carrying millions of passengers annually.
Nearby attractions include the famous Smithsonian Institute, a variety of national parks and historical monuments. Temperatures in Virginia vary from summer highs of 25-plus degrees centigrade to winter averages of below zero.
Whether hiding from the heat or cuddling up in the warmth, a rental car allows you to choose the temperature with air conditioning and heating to make every journey comfortable.
The Smithsonian Institute and Museum is open throughout the year, with only one closing day; Christmas Day. Within are some of the wonders of the world, with exhibitions as famous as the Hope Diamond alongside seasonal and yearly exhibitions on technology, space and nature.
This fantastic experience is only a few miles from Dulles, all the easier to get to with rental cars from us. Virginia State houses some of America's iconic history, from the estates of George Washington, the commander-in-chief of American troops during the American Revolution to the Fairfax Attractions, a series of historical sites including the Colvin Run Mill as well as the Chantilly Battlefield.
These inspiring sites are mere moments away with a cheap car rental from Budget. Kids of all ages will be delighted by Loudoun County, a place filled with family activities that will get everyone involved. From civil war battlefields to spas, indoor train rides, golf and numerous tours, it makes for the ideal family holiday.
Handy planned trips ensure you make the best of a trip through the county. Take a road trip through the countryside with a rental car and experience all that this quaint part of Virginia has to offer at your own pace.
A trip to Virginia is not complete without a wander through historical Jamestown, where colonists first settled and where, today, tourists can see what archaeologists have dug up. This is a day trip from Dulles International Airport, some three hours' drive to and from, and would best suit visitors who have a car rental.
Get car hire and explore Virginia. You will find it is much more than museums and indoor attractions. The "Old Dominion" is a land filled with rolling green hills and running rivers, with approximately 65% of the state covered with forests.
From mountains to the sea, there are out-of-the-way cottages and houses ideal for a romantic trip or a family holiday. These secluded spots create a memorable holiday, but a car is needed to get to and from many of them. Why not try out some of our cheap car rentals and see what bang for your buck you can get.
Scream along with the kids in one of Virginia's many theme parks, scattered throughout the state. From waterparks to zoos, go-karting to mini-golf, there is fun for all the family. No matter how big the group, get cheap and efficient rental cars with us, with cars, mini-vans and trucks perfect for carting the gang around.
For those on a romantic getaway, some of Virginia's finest wineries lie within easy driving distance of the airport. Get away from it all and spend a dreamy weekend with each other. Small cars are available alongside larger vans for couples' retreats from Budget car hire.
Virginia's nightlife is as wild as its mountainsides, with clubs and bars to suit every taste. Try an authentic American night out in one of the towns or cities. Getting to one from the airport is as simple as picking up a rental car and driving.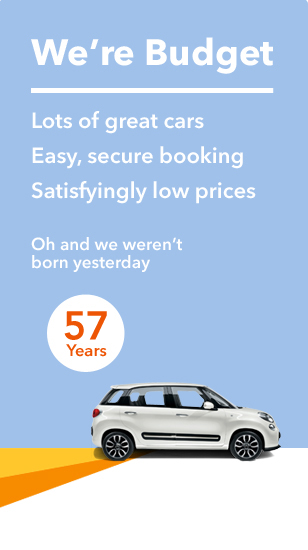 Other car hire locations