Cheap Car Hire at Catania Airport (CTA)
Enjoy your time in Catania with Budget Car Hire. Our airport location provides quality hire cars and friendly service at a great value price.
Car keys ready? Our travel suggestions below will help you get the most of your Catania car hire.
Rent a car at Catania Airport
Catania Fontanarossa Airport
Catania Fontanarossa Airport
Catania
95100
Tel: 39095340500
Opening hours
sunday:

08:00 - 23:59 Hrs


monday:

08:00 - 23:59 Hrs


tuesday:

08:00 - 23:59 Hrs


wednesday:

08:00 - 23:59 Hrs


thursday:

08:00 - 23:59 Hrs


friday:

08:00 - 23:59 Hrs


saturday:

08:00 - 23:59 Hrs

Budget Rent-A-Car at Catania Fontanarossa Airport
View our convenient Budget car hire location on the map below.
Explore Catania with Budget Car Hire
Cheap car hire Catania Airport
Our standard package gives you cheap car hire in Catania with all tax and essential insurance included in the price, including Collision Damage Waiver (CDW).
But you can also choose from additional options when you get your quote, including fuel payment options, additional insurance, optional GPS, additional drivers and child seats if you're a family renting with small children.
Your hire car - Catania fleet
Our wide variety of hire cars from Catania Airport come in various sizes and styles, ranging from large family cars to compact economy cars, all at competitive prices.
Our rental cars are on average less than a year old, and receive a full service after every rental, to ensure you rent a clean and reliable hire car.
Catalina Airport is easy to navigate and you'll find the budget desk in the arrivals hall once you have picked up your luggage at the baggage reclaim.
Explore Catania in a Budget rental car
One of the most notorious attractions near Catania is Mount Etna. Mount Etna is the tallest active volcano in Europe and the most active in the world. It is in an almost constant state of activity.
In Catania itself, there are many cathedrals and places of interest that can be reached by car. The most famous of these is the Duomo di Catania, situated in the heart of Catania.
To reach Catania from Catania Airport in your rental car, begin by exiting the airport and heading northeast on Via Fontanarossa. When approaching the first junction stay slightly to the left so you can turn right onto Via Santa Maria Goretti.
At the roundabout take the 3rd exit onto Via San Giuseppe alla Rena, and then turn right onto the ramp to Catania. Merge onto Via Priolo/SP70 and after 1km continue onto Via Acquicella Porto, then continue onto Via Cristoforo Colombo. At the roundabout take the third exit onto Via Alcalá.
Due to there being so many one-way streets in Catania be sure to plan your journey before you leave, or take an up-to-date Sat nav.
Remember when driving in Italy that you should drive on the right and over take on the left. Children are not allowed to sit in the front passenger seat unless they are over 150cm tall. Be aware of driving in bus and cycles lanes as on the spot fines can be enforced. It is compulsory in Italy for the driver to carry a driving licence.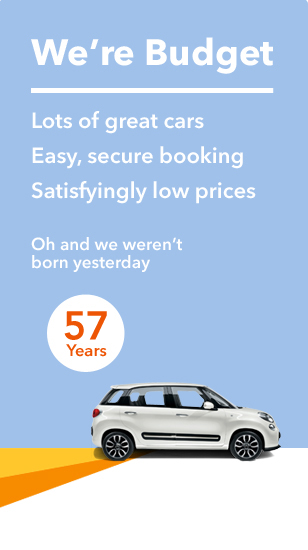 Other car hire locations