Car hire Cardiff Airport
Treat yourself to a Budget hire car, and start your trip directly from Cardiff Airport. Our airport location provides quality hire cars and friendly service at a great value price.
Let's go. Enter your rental dates in the form on the right to get a quote.
Rent a car at Cardiff Airport
Cardiff Airport
Cardiff International Airport
Cardiff
CF623BD
Tel: 03445446006
Opening hours
sunday:

09:30 - 18:00 Hrs


monday:

09:30 - 18:00 Hrs


tuesday:

09:30 - 18:00 Hrs


wednesday:

09:30 - 18:00 Hrs


thursday:

09:30 - 18:00 Hrs


friday:

09:30 - 18:00 Hrs


saturday:

09:30 - 18:00 Hrs

Budget Rent-A-Car at Cardiff Airport
View our convenient Budget car hire location on the map below.
Explore Cardiff with Budget Car Hire
Car hire in Cardiff and Wales
Cardiff's rise as a city came as a result of being a major exporter of Welsh coal and since has become a business centre in the country.
Those travelling to Wales on business will want to take advantage of our corporate rates for larger businesses. Small businesses will find the BusinessConnections programme especially useful and affordable.
For those travelling for pleasure there is a wide selection of attractions to visit; having your own transport will be useful when visiting these great destinations.
At Cardiff Castle, those who like history will be fascinated by the differences between the Norman keep and the much later Victorian mansion.
Today the castle hosts a number of events including musical performances and sporting occasions.
Also of interest is Llandaff Cathedral, a site that has had a cathedral upon it for almost nine hundred years; the current façade is much more modern however, thanks to a reconstruction effort during the nineteenth century.
You do not of course have to stay in the city to experience all Wales has to offer.
A hire car will enable you and your party to head in to the majestic Welsh countryside. The coastal areas of the Bristol Channel and beyond are worthy of a visit and it is advisable to head into the interior of Wales.
With stunning valleys and imposing hills, it really is a feast for the eyes. For those with a real penchant for nature, heading to the Brecon Beacons should be included in you itinerary.
If you feel this driving may be too much for one, it will be worth adding an extra driver to your hire package when booking with Budget.
Cardiff
Modern attractions in Cardiff are in abundance.
Firstly, there is the Millennium Stadium which has hosted a wide variety of sporting events from the national past-time of rugby to football matches while London's new Wembley was being completed.
The stadium has also hosted motor sport events and musical performances. There is also the Millennium Centre, an attraction regularly hosting arts performances such as opera and ballet as well as theatrical shows. Modern Cardiff has a host of shops that will keep even the most hardened shoppers satisfied.
Just remember to look at the larger cars in Budget's range to accommodate all of those shopping bags.
Cardiff as a modern contemporary tourist destination is fascinating. It gives visitors the chance to sample Welsh city life as well as being close enough to the countryside to experience rural activities.
A Budget hire car will truly assist you in getting the best from your trip whether travelling for business or pleasure.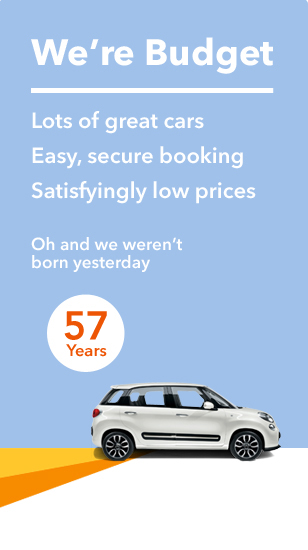 Other car hire locations